Trumpeter swans return to county lake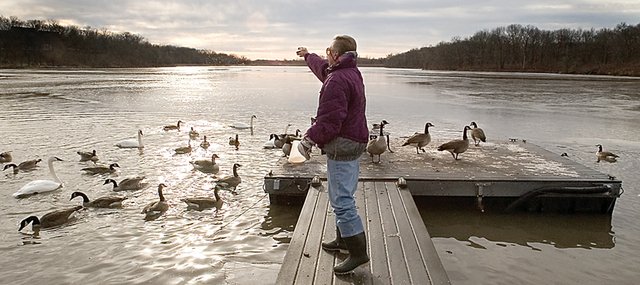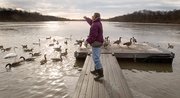 The trumpeter swans are back at Bear Lake.
Dave Isabell, whose backyard abuts the private lake, said the group of eight large birds returned to the lake with what he said were "thousands" of geese more than a month ago.
Isabell, who feeds the birds every morning and afternoon, enjoys watching the birds and their interactions, especially two pairs in particular. Returning for the third year with the swans to Bear Lake - which is off Kansas Highway 32 between Bonner Springs and Tonganoxie - is an Egyptian goose. The goose stands out for being much smaller than the swans, with yellow eyes and red feet.
Isabell said he didn't know whether the bird escaped from a zoo or somehow got lost while migrating over the arctic.
Isabell said the Egyptian and another, large, white-rumped goose he's dubbed Mother Goose seem to have hit it off romantically. They may have been the pair that produced another, different-looking bird traveling with the group.
The "hybrid" bird has a multicolored beak like the Egyptian's, with rose and orange legs.
Two other birds, trumpeters, also appear to be a pair.
"In watching these birds you can tell there's some sort of affection between a mating pair," Isabell said.
For instance, once "the male chased away some geese. When it was done chasing, the female honked at him and he honked at her," Isabell said. "Then they intertwined their necks and raised their wings in some kind of ceremony. I can't say it's love : But it's something like saying 'Good job Harry, you really took care of those damned geese.'"
While Isabell enjoys the swans and wouldn't mind if they stayed all year, he's glad the geese don't make themselves a permanent fixture.
"There's so much crap on the dock it's unbelievable," Isabell said. "I wouldn't care if the swans stayed - they never get on the dock, and they're really pretty, pretty birds."
To Isabell's ears, even the trumpters' signature noisemaking is pleasant.
"When they all get together honking it almost sounds like a band down there," Isabell said.
Trumpeters have made an impressive comeback since the early 1900s, when they were hunted to near extinction.
There are now about 23,000 trumpeter swans in North America, where they are a native species, with about 5,000 in the contiguous United States, and about 4,000 of them in the Midwest.
The birds first came to the lake in February 2004, Isabell said.