Victories aplenty at Bobcat
Flynn suffers first setback, but
LHS

has big day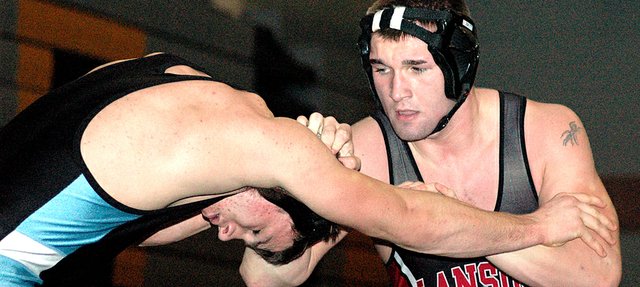 Photo Gallery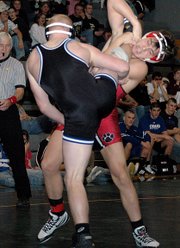 LHS wrestling competes at Bobcat Classic
Basehor — If a loss can be considered encouraging, Nick Flynn had such a loss Saturday in the 152-pound finals of the Bobcat Classic.
Flynn, a Lansing High senior, entered the tournament at Basehor-Linwood High School with an 18-0 record, a No. 2 state ranking in Class 5A and expectations of a showdown in the finals against Goddard senior Brent Fisher, ranked No. 1 in Class 6A.
Both wrestlers marched through the brackets in dominating fashion. Flynn pinned his first three opponents and then won his semifinal match with a 10-4 decision against Jess Lemon of Chapman. Fisher rolled into the finals with four pins.
The championship clash was as intense as expected, and Fisher escaped with a 6-5 victory.
"Fisher is a good wrestler, there's no doubt about that," Flynn said after the match. "I thought I wrestled a good match. I thought I could've left a little more out there on the mat, but I thought I did pretty much all I could to beat him."
Flynn fell behind 5-1 during the first two periods and narrowly missed recording a two-point takedown late in the second period. He had Fisher's leg lifted high in the air, but was unable to trip the other leg for a takedown.
Flynn said it would've been nice to nab those points, but he said it didn't cost him the match.
"You can't really say it's just one thing, because a million different things could happen in a match that could turn it the other way," he said.
Flynn rallied and tied the match with a takedown midway through the third period, but Fisher earned an escape point with 30 seconds left and hung on for the win.
The loss dropped Flynn's record to 22-1, but LHS coach Ron Averill said it's a defeat that will benefit the defending state runner-up in the long run.
"Overall, not only was it an impressive loss, but it was an encouraging loss," Averill said. "With that kind of competition and that kind of match, that just lets me see that being a state champ is a very real goal."
Also encouraging is the fact that Flynn lost to Fisher by just one point, and Fisher lost to Class 5A No. 1-ranked Kyle Detmer of Bishop Carroll by just one point earlier in the season. Detmer beat Flynn in the state finals last year, and the close loss to a common opponent indicates Flynn and Detmer might not be too far apart again this year.
Flynn wasn't the only LHS wrestler to turn in a standout performance at the Bobcat Classic. Five other Lions turned in top-eight finishes. Junior Grant Hinckley was third at 160 pounds, junior Tyler Strouhal was sixth at 215, freshman Spencer Blew was sixth at 125, freshman Tyler Baughman was seventh at 145 and freshman Dillon Scanlon was seventh at 130.
Lansing placed sixth out of 30 teams. Goddard won the team title, Andale was second and Garden City placed third.
Averill said numerous positives came out of his team's showing at the Bobcat Classic. In addition to leaving no doubt that Flynn is a state title defender, Hinckley had the same validation when he knocked off Pittsburg's Jordan Brown in the consolation finals, 4-3. Brown was ranked No. 2 in Class 5A.
"Even though I was winning a lot, I still didn't feel like I had the respect I think I deserved," Hinckley said. "Nobody I think took me seriously, and now that I beat Jordan, everyone's gonna be like 'woah.'"
Hinckley now is 22-2 this season.
Another big victory came from Scanlon in the seventh-place match. He scored four points in the final 20 seconds of regulation to force overtime before beating Shawnee Mission West's Ethan Young, 13-9.
"That's going to have huge payoffs down the road when you get into those situations later in the year," Averill said of Scanlon. "Him getting a win like that is not only good for him, but it's good for everybody on the team because it's a belief system. Winners find a way to win, and they're doing it."
Averill said that wrestlers who place at the Bobcat Classic have no reason to doubt that they belong at the state tournament next month.
Included in that group is Strouhal. The third-year varsity wrestler hasn't been to state before, but he medaled in his third straight tournament and is 14-9 overall this season.
He credits a better work ethic, pressure from Flynn and wrestling Hinckley in practice with his steady success rate this season.
"I think if I work hard enough, I can go to state," Strouhal said. "Nick's been telling me a lot that if I get after it every day I should do good at state and possibly place."
Lansing next competes at 9:30 a.m. Saturday at the Holton Invitational.