LHS

boys roll into tournament finals
Lions rout Rossville, 57-31; Lansing girls stumble against Eudora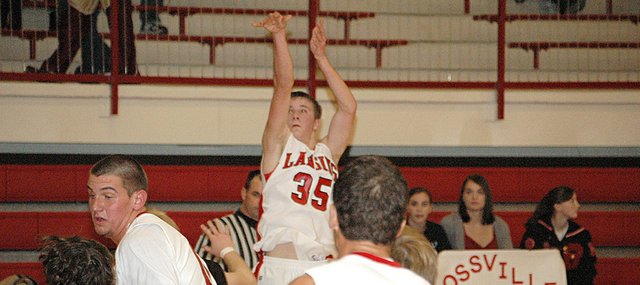 Tonganoxie — It took 11 games for the Lansing High boys basketball team to match its wins total from last season.
The Lions can pick up victory number nine in the championship game of the Tonganoxie Invitational Tournament.
The game between LHS and Atchison tips off at 7 p.m. Saturday at the Tonganoxie High gymnasium.
Lansing advanced to the finals by blowing out Rossville on Friday in the semifinals, 57-31.
"We love to be in the finals," said second-year LHS coach Rod Briggs, whose team went 8-13 last year and placed fifth in the 2007 Tonganoxie Tournament. "That's going to be very important to us that everybody's focused and ready to play. We've got a lot of guys that have the potential to step up their game a lot more than they already have."
One guy who stepped up his game Friday was junior Clayton Hall. He buried four of his five three-point attempts in the first half and helped the Lions explode to a double-digit lead quickly.
Senior Bobby Hauver and junior Curtis Beall added two treys apiece before the break, and the early offensive blitz propelled LHS to a 35-17 lead by halftime.
"We shot the ball well, and that really helped," Briggs said. "Clayton Hall going four-for-five in the first half was really the key to the whole game. Bobby hit some shots. Curtis hit some shots, and that just really opened everything up.
From there the Lions were on cruise control. The Bulldogs never threatened in the second half.
Rossville wasn't at full strength Friday. Star guard Cody Broughton - who dropped 21 points on Eudora in the first round Tuesday - sprained an ankle in practice this week and missed the game. Briggs said that explained why the game was so lopsided.
"He'd have been probably the second best point guard we'd faced all year, so they're missing a really key part of their squad tonight," Briggs said. "That made a huge difference for us to have him out of the game because they're a much different team with him."
Hauver led LHS with 13 points, Hall had 12, Curtis Beall had 10, Stephen Didde and Cody Rush scored seven apiece, Ryan Delich scored four and Brian Beall and Richie O'Donnell chipped in two apiece.
Ryan Kerwin led Rossville with nine points.
Lansing now is 5-0 in 2008 and 8-3 overall this season.
Atchison advanced to the title game with a 61-59 victory over De Soto in the other semifinal matchup. Anthony Downing led the Redmen with 34 points. He made 12 of 20 shots, four of nine three-point attempts and all six of his free throws.
EUDORA 51, LANSING GIRLS 38
The Lansing High girls won't be making a second straight trip to the Tonganoxie Invitational Tournament finals.
Their perfect start to 2008 is over, too.
The cause wasn't entirely poor shooting. That has been the Lions' Achilles heel all season, but they routinely overcame it by doing the fundamentals and playing tough defense.
Their intensity was absent Friday in a 51-38 semifinal loss to Eudora.
Lansing rarely boxed out and was outrebounded, 36-27. Thanks to those rebounds, Eudora scored 13 second-chance points. LHS also committed 21 fouls and had two starters foul out while the Cardinals made 17 of 20 free throws.
Couple all that with a 31.3 field goal percentage and the Lions had their first loss of 2008 and ugliest one of the season.
LHS now is 7-4 this season.
"We talked in here about being mentally tough," LHS coach Keith Andrews said. "And I don't know, maybe the kids aren't going to be mentally tough. This is a challenge to them. They've got to be, because it's going to get tougher from here on in."
Andrews said he saw a little bit of fight from his team. It fell behind 12-2 during the first four minutes, but then forced four turnovers and got four assists from Amanda Darrow during the next seven minutes as it rallied to within 16-15.
Eudora led 22-19 at halftime.
LHS made four of its first five shots in the second half and took a 28-26 lead on a layup by Christine Cordes - thanks to another Darrow assist - with 5:18 left.
The defense fell apart after that, and Eudora closed the third quarter on a 9-2 run.
The Cardinals sank 12 of 14 free throws in the fourth quarter and pulled away for the victory.
Nikki Snider led EHS with 20 points and 10 rebounds.
Brittney Lang and Alexis Ellis led Lansing with eight points apiece; Katie Nietzke, Christine Cordes and Amy Briggs each had six; and Katelyn Griffen and Darrow added two.
Lansing next plays at 1 p.m. Saturday against Silver Lake in the third-place game. Silver Lake lost the other semifinal game to Tonganoxie, 41-36.
THS raced to a 19-10 lead in the first quarter, but Silver Lake to within four by halftime.
The Eagles whittled the lead to two in the fourth quarter, but the Chieftains' seniors took over down the stretch. Tracie Hileman had two steals, a block and an assist in the final minutes, and Christy Weller and Liz Baska each swished a pair of free throws that helped put the game away.
Shannon Carlin led THS with 14 points and seven rebounds; Baska had eight points and five rebounds; and Hileman added seven points and eight boards.
Sara Wetzel led Silver Lake with 16 points and five rebounds.