Area's first baby of '08 an early arrival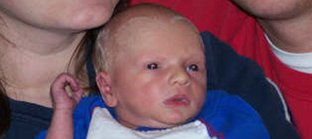 The first baby born in 2008 in the area arrived a little earlier than expected.
Alex James McConnaughey was born to Amy and Shawn McConnaughey of Basehor the morning of Jan. 10, a week and a half before his scheduled due date of Jan. 21.
Amy said she had gone to her last doctor's visit on Jan. 8 and had worked a full day at her job as the office manager for Roberts Auto Plaza in Platte City, Mo., on the 9th. She also went to meet her pediatrician on the 9th and as soon as she walked into the office, she began having contractions.
"He said, 'I don't catch them, I just take care of them after they're born,'" Amy said. "He said, 'So nice to meet you, now go to the hospital.'"
The McConnaugheys headed to Shawnee Mission Medical Center and when the baby started crowning, the nurse went to the phone to call the doctor, but Alex was not waiting, Amy said. He was born before the doctor could even get to the room.
"The doctors and nurses were great," Amy said. Everybody was awesome, just super nice. They took really good care of all of us."
Grandparents, aunts, uncles and friends stopped in to visit during the new family's two-day stay at the hospital. Amy, 30, and Shawn, 29, moved to Basehor in August and are both originally from surrounding areas. Amy said they're lucky because her mother, Patty Walker, lives in Basehor, and Shawn's parents, Byron and Larinda McConnaughey, are in Linwood, so they have help close by. Amy's side of the family is especially excited, she said, because there hasn't been a baby in the family for several years.
"We haven't had a baby in the family for almost 11 years, so my family is just insane right now," she said.
The families also played a role in naming the newborn.
"We went through several names and found one we both liked," Amy said about naming their son. "His middle name was easy because my husband's grandfather and my grandfather were both James."
At 5 pounds, 12 ounces and 17 inches long, Alex is small, Amy said, but he's not fussy and he's very alert. She said Shawn describes him as "Popeye without the spinach."
"If he grows into his hands and feet, he's going to be just like daddy," Amy said. "Over 6 feet tall."
Dad has also taken an active role in caring for the new baby. Amy said Shawn been changing diapers and getting up for late-night feedings. Shawn, who works for a contractor, is also set to stay home with Alex during some of the slower winter months, while Amy returns to work.
"He'll stay home with the little guy until they get busier in the summer," she said.
Shawn said he's always wanted to be a father and is ready to hit the basketball court with him any day now.
"He's just the greatest," Shawn said about Alex. "It kind of helps that he's the spitting image of me."
The new mom said she is feeling good, despite being a little bit tired and said she is looking forward to watching her son grow up.
"I had a great pregnancy," she said. "I never got sick and I felt great the whole time. It was a pretty easy delivery and being my first baby, I couldn't have asked for anything better. The only thing you really hope for is 10 fingers and 10 toes and that everything is fine. It's just going to be fun."