Photo Gallery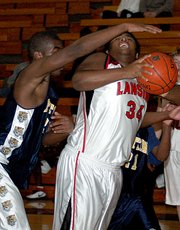 Freshman boys roll to 7-0
The Lansing High freshman boys basketball team looked awfully comfortable playing in its home gymnasium Monday night.
The Lions dominated all aspects of their first-round game at the 44th annual Lansing Freshman Tournament as they hammered Patton Junior High School, 50-11.
Lansing opened the game with a bang as it outscored Patton 14-0 in the first quarter. A put-back by Colby Gwartney and a 14-foot jumper by Ryan O'Donnell extended the lead to 18-0 before Patton's Devyn McPhall ended the shutout with a put-back at the 4:06 mark of the second quarter.
The Lions led 25-6 at halftime.
LHS held Patton scoreless in the third quarter until three seconds remained. During that time the Lions went on a 12-0 run that included baskets by Tyler Parsons, O'Donnell, Mike Grote and Zak Haller and three free throws by Calvin Schneider.
Matt Stratton scored five points in the fourth quarter as the Lions put the game away easily.
Stratton led LHS with nine points, Schneider had eight, Derique' Cary and Gwartney had six apiece, O'Donnell scored five, Sean Tweet, Parsons and Grote each had four, and Kaleb McQuillan and Haller chipped in two apiece.
Lansing (7-0) advanced to the semifinals where it was scheduled to play Basehor-Linwood Wednesday night. The Lions will play in either the championship or third-place game on Saturday. The third-place game is at 10:15 a.m. in the Lansing Intermediate School gym, and the title game is at 12:45 p.m.