Officials spring their hopes on rejuvinated housing market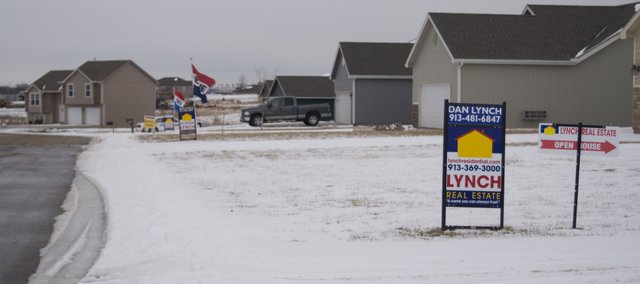 City officials and developers in southern Leavenworth County are hoping for continued growth as builders prepare for the spring and summer construction season - despite a nationwide slowdown in the housing market.
"There are just so many things happening on the fringe of Kansas City that people will look at Tonganoxie," said Mike Yanez, Tonganoxie city administrator. "We are kind of in the middle of everything. For a small town our size, we have a lot of assets people find attractive."
According to MarketWatch, housing starts in 2007 fell 25 percent to 1.35 million, the lowest annual total since 1993. The number of building permits issued is up in both Tonganoxie and in Basehor, but there has been a definite leveling off in the market.
In 2005, the city of Tonganoxie issued a 10-year record of 130 building permits for new homes and commercial structures. The next year saw a drastic reduction to only 41 permits. In 2007, the number of permits to 66, more than the previous year but well off the 2005 mark.
"We overbuilt that year and developers had a bunch of empty houses," Yanez said. "I think it's going to continue like this for a few years. It may not be as strong as it was two or three ago, but I think it's going to continue as more people are becoming familiar with 24-40 with the Kansas City area. I think with the turnpike interchange opening up, people in Douglas County are going to discover Tonganoxie as a good option."
Jack Willis, who owns Southpark Development Company LLC, isn't so sure.
Willis hasn't been building any homes. In fact he still has about a dozen vacant homes on the market from around a year ago.
He's not sure if more development on 24-40 or on County Road one will change the outlook.
"Things could really change this spring if they start dropping the interest rate," Willis said. "But it's just way off from what it was like when we were building 20 to 25 houses a year."
Instead of building new homes, Willis has been buying foreclosed homes. He said it was harder to sell new homes when there were many older homes to buy.
While the market has been slowing on the Tonganoxie end of U.S. Highway 24-40, development seems to be steady around Basehor.
In 2007 the city issued 113 building permits for homes and commercial structures, up from the 101 permits issued in 2006.
"It seems like things are remaining strong despite the general slowdown in the housing market," Carl Slaugh, Basehor city administrator, said. "I'm not sure why Basehor seems to be doing well compared to the surrounding areas. I don't know if it's something unique here or because the Midwest has done a little bit better."
With the possible completion of a new grocery store in December, Slaugh expects the city to continue its steady growth.
Jeremy Ressler, president of JE Ressler Homes Inc., also sees the steadiness of the Basehor housing market.
Of the homes he's built, houses in the $200,000 range have sold the best.
"We've been extremely steady," Ressler said. "A lot of the part-time guys have stopped, but the full-time builders continue to stay busy. A lot of it has to do with the Speedway growth and with the 24-40 corridor as the push heads out west."
Last year Ressler built six homes in Tonganoxie and 15 homes in Basehor.
Optimistic of the new year, Dan Lynch, owner of Lynch Real Estate, expects great things in 2008.
In fact, "Great in 2008" is his motto for the year.
Lynch said the market wasn't as bad as people said it was.
"Last year we saw a little bit of a slowdown in new construction," Lynch said. "We've left ourselves with a little more inventory; however that inventory is shrinking and we are getting to where we can start building some new houses."