A biker; minus the leather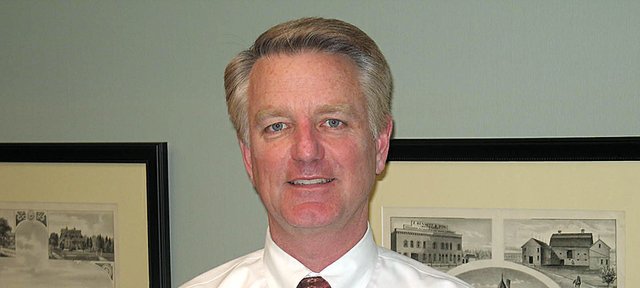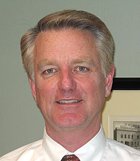 During the work week it's usually all business for Chuck Peterson, senior vice president and CEO of Citizens National Bank in Lansing.
Whether on a national or local level, Peterson has a keen interest in the financial world.
So naturally, the bank's chief executive officer kept an eye on falling stock prices and the announcement Tuesday of an emergency .75 percent interest-rate cut by the Federal Reserve , the widest cut since 1990.
"When changes are made nationally, they do have some impact locally," Peterson said, noting the effects the cut would have on interest rates for both the deposit and loan side of banking.
Locally, Peterson, who has 21 years experience in banking seven of which have been at CNB plays an active role in economic development in Leavenworth County as vice president of the Leavenworth County Development Corp. and a board member of the Leavenworth-Lansing Area Chamber of Commerce.
"I got involved with LCDC because of the opportunity to help with Leavenworth County in the commercial arena," Peterson said. " : It's important in job creation."
Peterson said also he enjoys being able "to help promote local business" as a member of the chamber of commerce.
Outside of work, Peterson likes riding bikes both bicycles and motorcycles and tinkering with an antique car he owns.
He's participated in such events as the Kansas City Toys for Tots Ride, a 60-mile motorcycle tour that benefits the charitable organization each year, although Peterson said he's not a typical biker.
"I drive a Honda Gold Wing," Peterson said. "While 95 percent of everyone else there had a Harley Davidson."
Peterson added that his wife made him think twice about dressing in shorts and a polo shirt instead of the typical, leather biker garb for the event.
Whenever possible, Peterson said he also tries to take his bicycle out on the road.
"On the weekends I try to get a 20- to 50-mile ride in with a group (of friends)," he said.
NAME: Chuck Peterson
ADDRESS: 601 N. Main St., Lansing (Citizens National Bank)
OCCUPATION: Senior vice president & CEO, Citizens National Bank
FAMILY: Margaret, wife; Tiffany, daughter; Bryant, son
HOW LONG HAVE YOU LIVED IN THE AREA, AND WHAT BROUGHT YOU HERE? "12 years : I moved from Hutchinson."
WHAT DO YOU LIKE MOST ABOUT LANSING? "The people."
WHAT DO YOU DO FOR FUN? "Ride bikes."
WHAT MIGHT SURPRISE PEOPLE ABOUT YOU? "I actually own and ride a motorcycle."
WHAT IS THE BEST ADVICE YOU'VE EVER RECEIVED? "The Kenny Chesney song : 'Don't Blink.'"
WHAT CLUBS OR ORGANIZATIONS DO YOU BELONG TO? Leavenworth County Development Corp., vice president; Leavenworth-Lansing Area Chamber of Commerce, board member.