BLHS

dance team ready to dazzle in competitions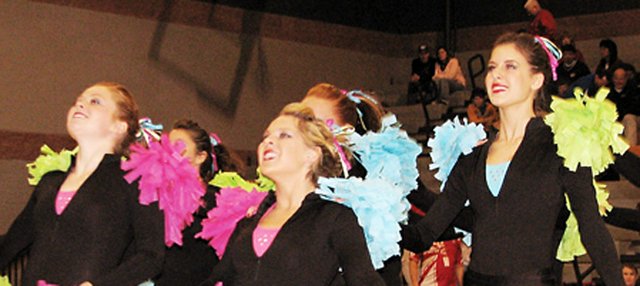 Basehor-Linwood High School is dark and the heat has been turned off most of the weekend, making the gymnasium feel almost as chilly as the outside temperature Sunday afternoon.
While most of their peers are out enjoying their five-day weekend, the 12 members of the BLHS Dazzlers Dance Team are in the midst of a three-hour practice, trying to keep their muscles warm and their energy up.
They just had spent more than 12 hours together the previous day in a frenzy of costume changes, makeup checks, hairspray, stretching, nerves, waiting and of course performances under the critical eyes of experienced judges at the 2008 Miss Kansas Drill Team Festival at Olathe South High School.
And, now here they are back at practice the next day, preparing to do it all over again this Saturday at the 2008 Kansas Spectacular dance contest at Olathe East High School. They're exhausted, but that's just the way it is during contest season something they look forward to and train for all year long.
"When you're changing formations, make sure all of your arms are the same," said one of the judges on a critique tape from the day before.
The tedious job of cleaning and perfecting a routine often wears the dancers down more than running through it over and over again.
Tiffany Bohm is the team's longtime choreographer, and while she teaches the team its three contest routines several months in advance, that's just the beginning. She understands it's not just about knowing the steps to the routine. It's about turning 12 individuals with all different levels of dancing abilities into one unit with correct dance technique and precision. Each foot, arm, body and head must be positioned exactly right as judges dock points for every foot that's not pointed and every improper arm placement. How the team presents itself is also factored in including showmanship or smiles and facial expressions, costumes, hair, make-up, difficulty and originality of choreography and overall performance.
"OK, let's run it one more time," team coach Juli Brown said. "All the way on, all the way off. Think of what we fixed."
While the Dazzlers performed fairly well at Miss Kansas, earning the Sweepstakes (average of 85 to 100 on team routines), Shining Star (90 or above from all judges) and Judges Precision and Showmanship awards, routines are never perfect, making the judges' critique sheets and audio tapes helpful tools toward improvement at Kansas Spectacular.
"We got some pointers on things we can fix," Brown said about the first contest of the year. "It also gets the jitters out for some of those who have never been to a competition."
More than 50 teams from Kansas and outside the state bring the best they can offer to both of these competitions. The small BLHS dance team must compete with much larger teams with bigger budgets, elaborate costumes and a greater support system. The Dazzlers operate on a $0 budget by relying on the dancer's parents, a few fundraisers and thinking of creative ways to cut corners to help save on costs, like recycling costumes from past years and embellishing inexpensive garments with rhinestones. Different-colored strips of disposable party tablecloths bound together in the middle serve as the team's pompoms for their pom routine, "Let's Get Loud," but somebody watching from the audience would never know the difference.
"It's cheap; you get more poms and more colors," Brown said. "Because poms are expensive."
While Brown said she and the team members try to promote the contests, outside support varies from year to year, but parent support never wavers.
About five mothers also spent their Sunday afternoon at practice, high in the bleachers, correcting formations and giving feedback on routine execution.
During the Dazzlers Christmas party last month, clipboards were passed around and each member wrote something positive about each of her teammates. One of the moms handed the positive comments out right before Saturday's competition as a pick-me-up and motivator.
But, being together almost every day for 10 to 11 months out of the year contributes to a self-supportive team, from practice bright and early at 6:15 almost every morning to an intensive summer camp and all-day events such as competitions.
Even though there may not always be a roaring crowd there to cheer them on, the team seems to thrive on each other's support despite their often-overlooked accomplishments.
"That's what our whole year is built around," sophomore Dazzler Nicole Bishop said about the competitions. "It takes a lot to dance, a lot of time, energy and muscles. We want to prove to everyone that we're more than just a 4A dance team. We can compete."
The Dazzlers will perform three team routines at Kansas Spectacular, including a pom routine, a novelty routine "Life of the Party" and a prop routine with chairs called "Show Off." Their first performance is scheduled to begin around 4:15 p.m.