Family celebrates soldier's return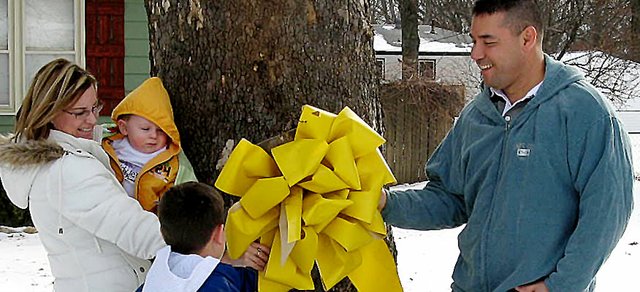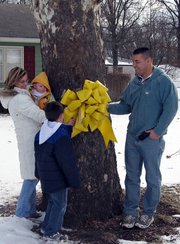 The bright yellow ribbon that hung on a large tree in the front yard of Carol Murray's house caught the eyes of many passing motorists along Kansas Highway 7.
For many driving by, the yellow ribbon at 509 S. First St. became a symbol of comfort and pride as they could relate to what a burden it is to have a loved one gone.
Neighbors and other Lansing residents would stop by, Murray said, curious and asking how she made the ribbon and about which of her family members was off fighting the war that has affected so many families in this community.
But Murray's yellow ribbon has come down now, and with it a great sigh of relief has been released. Lt. Col. Pat Cook has returned safely from his 15-month deployment to Afghanistan.
"There were a lot of people who could identify and hoped that our loved one came back safe," Murray said.
Murray is the mother-in-law of Cook, who left for Afghanistan in October 2006. During his time overseas, Cook served as an executive officer at a detention camp, where he said the hardest part was leaving behind his wife, Wendy, who was pregnant at the time with their second son, and their oldest son Chase, 8.
"It was hard," Cook said, but he added that his wife "definitely had the hardest job."
The two would speak on a daily basis by telephone, and Cook said advances in technology made the distance easier. He even got to see the birth of his now 10-month-old son, Casey, by having a Web cam set up in the hospital room.
Cook was able to return home for a short reunion and to see his newborn son for the first time in June 2007. The reunion was full of tears and joy, but everyone knew the tough period wasn't over yet.
Wendy eventually moved back home from Florida to be with her parents in Lansing and to get the needed support and comfort that was lacking when she was alone.
"It was very difficult," said Wendy, who is a counselor at MacArthur Elementary School at Fort Leavenworth, "extremely difficult and depressing at times. You just had to take things day by and day and mark the days off on the calendar."
This was the second tour of duty for Cook, with the first being in 1990 during the Gulf War. While in Afghanistan most recently, Cook said he saw progress being made from the entire Army. He said much good was happening, such as seeing the Afghanistan government build up its own army and police forces.
Cook said he doesn't know yet if he will have to return to Afghanistan before the war is over. Until then, he will be assigned to a job training officers at Fort Leavenworth.
Wendy and Cook are both 1985 graduates of Lansing High School. They've recently relocated their family to Piper to be closer to family. Since returning home, Cook said it's been odd adjusting back to a family and civilian lifestyle but that he expects the process to go smoothly.
Wendy said she was surprised how quickly baby Casey took to the father he's hardly known since birth. Wendy said watching Casey's older brother interact with Cook has helped make the baby feel more comfortable.
Cook too said he had some adjusting to do with having a baby around. Cook said he had almost forgotten what it was like tending to a crying baby.
For now the family is enjoying its time together. They are planning a party to celebrate Cook's return and looking forward to a possible family vacation in the summer.
As for the yellow ribbon, it may have been taken down from the tree, but no one in the family will ever forget it as their symbol of peace and pride for the sacrifice their family has made to protect the American way of life.