Lions feast in finals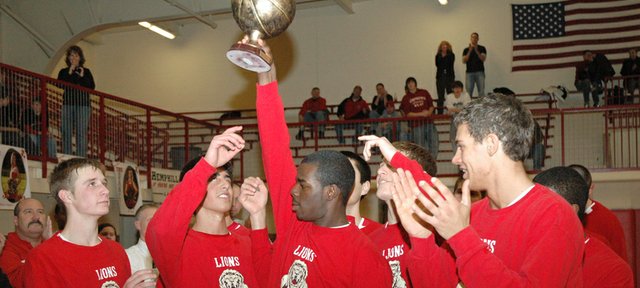 Tonganoxie — Rod Briggs knew one thing about his players: They were hungry.
And what better place to cure some hunger pangs than the Tonganoxie Invitational?
After all, if the tournament is known for anything more than its quality of basketball, it's the way it feeds its participants.
Homemade barbecue. Baked beans. Chicken wings.
You name it; the Lions ate like kings.
"One thing I learned from this tournament is 16-year-olds are motivated by food," said Briggs, Lansing High's second-year boys basketball coach.
The real feast came prior to dinner on Saturday, however, when the Lions blew out Atchison in the tournament finals, 80-56.
The offensive explosion came against an Atchison squad that was ranked No. 6 in the Kansas Basketball Coaches Association's Class 4A poll, and it marked the most points scored by a LHS team in more than four years.
The victory improved Lansing's record to 9-3, meaning the Lions needed just 12 games to top last season's win total of eight.
"These guys have worked hard, and we've struggled through some games," Briggs said. "But now we've played good when we needed to. I found out what guys will do in a big game."
What the Lions did was play ferocious defense, rebound, take care of the ball, find the open shooter and push the tempo when necessary.
Clayton Hall banked in a 15-footer on Lansing's first possession. Cody Rush swished a pair of free throws on the next trip down the court for a 4-0 lead. Atchison rallied with an 11-4 run as Anthony Downing buried a three-pointer and a pull-up jumper. Hall tied the game with a three-pointer, but the Redmen led 16-14 at the end of the first quarter.
Atchison took its largest lead of the game at 23-18 with 5:14 left in the first half, but the more the game adopted Atchison's up-tempo style, the more the momentum shifted to Lansing.
Curtis Beall swished a three-pointer and Hall had a steal and layup that tied the game. Another Hall steal led to a layup by Kevin Johnson. Then Bobby Hauver had a steal that led to an old fashioned three-point play. Hauver scored on a put-back on the next possession, Rush sank a free throw, and Johnson had a steal and layup. Hauver later added another steal and layup as Lansing ended the half on a 17-2 run and led 35-25 at intermission.
LHS forced eight turnovers in the second quarter alone, and five of them led to layups at the other end.
"Clayton Hall started us off hitting some big three's for us," Hauver said. "After that, everybody just put it together playing great defense. Pushing the ball up the floor was our plan, and we got a lot of fast-break points."
Hall swished another three-pointer on the first possession of the third quarter, but Atchison soon rallied back within eight points. Just as the Redmen were threatening, however, the Lions stepped on the gas and never slowed down. Beall had a steal and took it the other way for a layup. Then Hauver hit Rush in stride for a layup. Then Hauver scored on back-to-back layups. He added two free throws and the end of the quarter that put LHS ahead by 14.
Lansing made nine of 10 shots in the fourth quarter - five of them layups - and sank five of six free throw attempts as it finished the game in style. LHS began running the clock with three minutes left, and it cleared the bench for the final 97 seconds.
"We were thinking we could come in here and get a win," Hauver said. "But we didn't know we'd blow them out of the water that much. The defense did a great job, one thing led to another and we had the momentum the whole game."
Lansing made 58.5 percent of its shots for the game and hit a blistering 75 percent in the second half.
The Lions scored 28 points off turnovers compared to just four for the Redmen.
"That was the key stat, because that's what they usually score a lot of points off is their turnovers in transition," Briggs said. "We did a good job not letting that happen."
Hauver led LHS with 22 points, 10 of which came on layups after his five steals. Hall scored 19 points, including two layups off of steals and three-for-five shooting from three-point range. Cody Rush scored 11 points, Curtis Beall had 10 points and four assists, Stephen Didde had six points and seven rebounds, Kevin Johnson had six points and Ryan Delich, Brian Beall and Vanquez Butler each chipped in two points apiece.
"We had lots of individuals that maybe didn't score as many, but everybody stepped up and did something very well tonight," Briggs said. "It was a total team effort, especially on the defensive end."
Hall, Hauver and Curtis Beall earned All-Tournament Team honors for their performance during the week-long event.
Tournament MVP Anthony Downing led Atchison with 24 points on eight-for-21 shooting.
Curtis Beall said the tournament championship and, specifically, the lopsided win in the title game will give the Lions plenty of motivation as postseason play nears.
"If we play this good, I don't know very many people that can beat us," he said.
Lansing returns to Kaw Valley League action at 7:30 p.m. Friday at home against Bonner Springs. The Lions beat the Braves in the season-opener and now are playing their best basketball of the season, but Curtis Beall said the Lions won't allow the tournament victory to make them overconfident.
"We can't look past anybody in the league, because any night if we struggle and some other team is playing their best, they can beat us," he said. "We just have to realize that if we play to our full potential, there's nobody that can beat us."