Scouts race to finish line during Pinewood Derby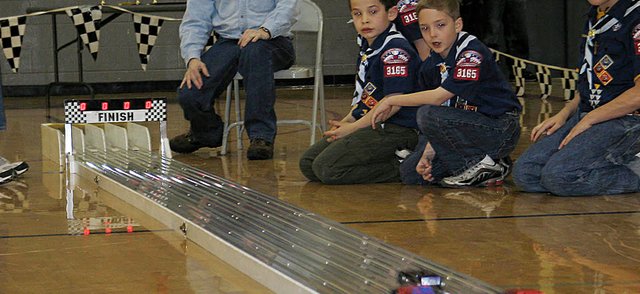 Scores of race fans flocked to the area this weekend not to the Kansas Speedway but to Lansing Middle School to take part in Cub Scout Pack 3165's annual Pinewood Derby.
This year's derby, which kicked off at 4 p.m. Saturday, pitted cars with names like "Gold Rush," "The Silver Spider" and "The Stealthanator" against each other as a crowd that filled the middle school gymnasium looked on.
Cub Scouts were also there earlier in the day for an official weigh-in and inspection by volunteer judges with the Lansing Lions Club.
The cars carved from a standard block of wood, painted and decorated with decals had to weigh less than 5 ounces to qualify for the race.
Metal weights and dry lubricants could be added to each car, but there were strict regulations on specific modifications that could be made.
Each boy, ages 6 to 10, had an opportunity to race at least four times down a handcrafted ramp against members from his den and rank Tiger, Wolf or Bear scouts.
Winners there advanced to a packwide competition, with the top overall finishers eligible for a districtwide competition later this year.
Den 5 leader Mike Williams, who coordinated Saturday's event, said it is something that Cub Scouts look forward to each year.
"The main thing about (the Pinewood Derby) is to get the kids and parents working together on a project and to have a little competition," Williams said. "It's not tooth and nail, but the kids have a lot of fun with it."
Winners by den were: Richard Litteral, Den 1; Seth Gibson, Den 2; Noah Souser, Den 4; Andy Werner, Den 5; Christian Fouquet, Den 6; Jerod Griggs, Den 7; Patrick Werner, Den 8; Colton Hindman, Den 10; and Adam Pfannenstiel, Den 12.
Overall pack winners, receiving trophies, were: Andy Werner, first place, Den 5; Tristan Lilly, second place, Den 5; and Jerod Griggs, third place, Den 7.
Awards were also handed out for good sportsmanship.
Williams made sure to point out, too, that each boy walked away a winner Saturday, reinforcing the idea that the focus of the Pinewood Derby was not to win at any cost but for each Cub Scout to follow the motto "Do your Best."
After racing, each Cub Scout drew a number and received a prize donated from 29 local businesses and organizations.
Prizes included sleeping bags, gift certificates, flashlights, savings bonds, Hot Wheels cars and a bike helmet