Ellis powers
LHS

girls past Bonner Springs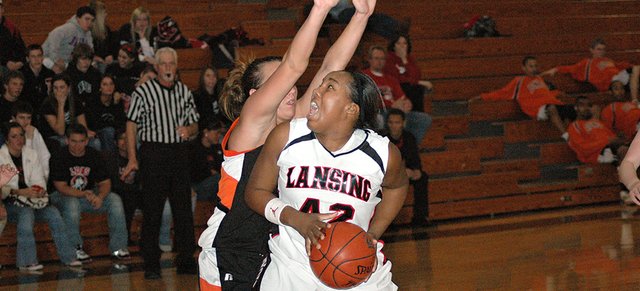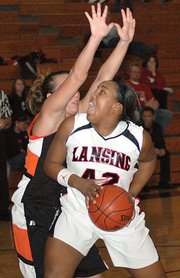 Lansing High guards Brittney Lang and Katie Nietzke combined for 31 points Friday night, but there was little question that it was the Lions' forwards who provided the biggest spark against Bonner Springs.
Junior forward Alexis Ellis scored 13 points and grabbed five rebounds during Lansing's 52-43 victory over BSHS at Johnsmeyer Gymnasium. Fellow forward Christine Cordes didn't score, but she pulled down a half-dozen rebounds, three of which came on the offensive end and led to Lansing baskets.
"The Lansing girls were physical inside, and I think their inside girls really hurt us tonight," Bonner Springs coach Clay Oakes said. "Ellis, we had a hard time stopping her down in the low block, and I think the biggest key tonight was them getting on the offensive boards and getting second-chance points."
Eleven of Ellis' points came during the first half on five-for-eight shooting. She was the primary source of production during the half as the Lions made 13 of 35 shots as a team.
Ellis' steady early play was just enough to counter a 12-point first-half effort by Bonner Springs' Kelsey Stanbrough.
Nietzke had a pair of three-pointers for LHS in the first half and Lang had seven points before the break.
Lansing led 30-28 at intermission.
"It was a nice pace. It was a good tempo," Lions coach Keith Andrews said. "I think we wore 'em down in the second half. Brittney shot the ball well; Katie shot the ball well again; Alexis was dominant inside; Chrissy did a good job on the boards, and we had people stepping up and making plays."
Lansing had trouble containing Stanbrough during the first half, but the Lions adjusted defensively in the second half and rarely allowed her to take an uncontested shot. She scored just four points in the final 16 minutes.
Still, it took the Lions a while to create any breathing room. Neither team led by more than three points in the first half, and Lansing's largest lead in the third quarter was just six. Nietzke and Lang combined for 10 points in a 10-4 run early in the fourth quarter that pushed the lead to double-digits.
Bonner Springs sank just two of 14 shots during the fourth quarter.
The Bravettes shot 27.6 percent for the game, and the Lions made 36.8 percent of their shots.
For Lansing, it was yet another win in the face of poor shooting.
"Through all of this shooting, non-shooting, we've played pretty good defense and we haven't really turned the ball over a lot, so those are two things we can be pleased with," LHS coach Keith Andrews said. "Hopefully one night we'll shoot about 60 percent, we'll score 70 points and we'll be unbeatable, but until then we're gonna play pretty good defense and not throw the ball away I hope."
Lang scored a game-high 16 points for Lansing, Nietzke had 15, Amy Briggs had six and Morgan Chiles chipped in two.
Stanbrough led BSHS with 16 points, Felisha Leipard had eight, Ashlee Espinoza had six, Lynsey Ostman had four, Chelsea Crouch and Chelsea Crawford had three apiece, Holly Luke had two and Starian Porchia had one.
Lansing now is 9-4 overall and 4-2 in the Kaw Valley League. Bonner Springs fell to 3-9 and 0-5.
Lansing next plays at 6 p.m. Tuesday at Piper.