Lions win seventh straight
Hauver's 19 points lead
LHS

past Bonner Springs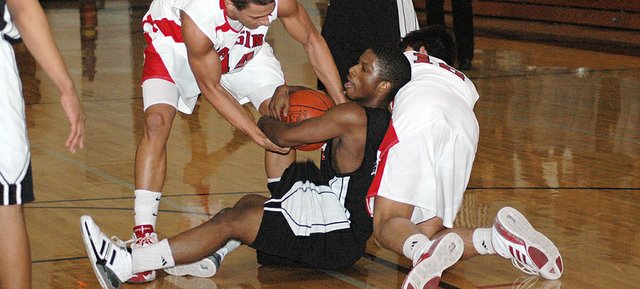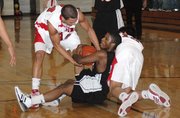 The Lansing High boys basketball team hasn't lost a game in 2008, but they were in danger of their first setback Friday night when the Lions clung to a four-point halftime lead against Bonner Springs.
At halftime, however, the Winter Royalty king and queen were announced, and senior basketball players and royalty candidates Bobby Hauver and Stephen Didde lost the nomination.
So maybe the credit for Lansing's dominant second-half performance Friday should go to royalty king Andy Armstrong, because Hauver and Didde responded to their royalty loss by leading a relentless offensive surge during the final 16 minutes as LHS rolled to a 57-40 victory at Johnsmeyer Gymnasium.
Hauver scored a game-high 19 points, 13 of which came in the second half. Didde scored seven points in the final two quarters had had 11 for the game.
It was the fourth straight game Hauver had led LHS in offense, and he has averaged 17 points per game during that span.
"That's one thing about Bobby : he doesn't like to lose and he doesn't like to look bad," second-year Lansing coach Rod Briggs said with a chuckle.
Lansing now is 10-3 overall and 7-0 in 2008.
The Lions looked awfully good when they shot 58.6 percent from the field during the second half, and they looked awfully good when they used an 11-1 run early in the second half to press a one-point lead to double digits.
The first half wasn't too pretty for either team. Both squads were sloppy with the ball. Lansing made just three of 12 shots, and Bonner Springs sank only one field goal during the first eight minutes as LHS took a 6-4 lead.
Both offenses were slightly improved during the second quarter as the Lions made five of 13 shots and the Braves sank four of 14.
The Lions led 18-14 at intermission.
"We left so many points on the table the first quarter," Briggs said. "We missed probably four layups that were just point-blank. A lot of that can be attributed to the fact that we haven't played for a few days, and practice was a little haphazard this week and some guys were sick, but we just left too many points on the table.
"The kids responded after halftime very well, and that was the key."
Tyler Jock swished a three-pointer on the first possession of the third quarter that pulled the Braves within 18-17, but Didde scored back-to-back buckets that ignited an 11-1 run for the Lions.
Lansing's defense was too pesky for Bonner Springs to overcome the rest of the way, and the Lions used a series of layups by Hauver and Kevin Johnson to push the lead to 20 points late in the game.
Lansing shot 46.2 percent for the game and Bonner Springs made 31.1 percent of its shots.
Cody Rush added 11 points for Lansing, Johnson had seven, Richie O'Donnell scored three, and P.J. Sigle, Clayton Hall and Ryan Delich scored two apiece.
L.T. Lee led Bonner Springs with 16 points, Jock scored 12, Ariel Adger had six, Chase McGhee had four, and Martin Birch and Brian Newton each chipped in one.
Lansing now is 5-1 in the Kaw Valley League and remains in a three-way tie atop the league standings with Basehor-Linwood and Perry-Lecompton. Bonner Springs falls to 4-9 overall and 2-4 in the league.
Lansing next plays at 7:30 p.m. Tuesday at Piper.