Bonner business grows by leaps - and bindings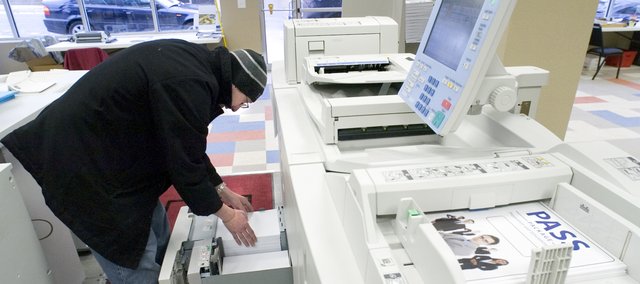 A Bonner Springs business is growing so fast it's already looking to outgrow a production facility it opened last week. As shoppers and other habitues of downtown Bonner Springs may have noticed, the former home of Family Martial Arts Fitness Center, 220 Oak St., has undergone some serious remodeling and now serves as the in-house printing and shipping facility for Able Inc.
"We've been outsourcing a long time," said Bryan Albers, chief operating officer of Able, whose main office is just down the street at 111 Oak St. "As our printing needs have grown we finally crossed the threshold where it made more sense to do our own printing."
Able specializes in online training for professional exams for stockbrokers and insurance agents. Albers also owns Pink Lemur, which is based in a storefront at 111 Oak and performs Web hosting and design, and has also gained a few employees, he said.
Since opening at its downtown location in April last year, Albers said Able has nearly doubled in size, from 25 employees to nearly 50. Most of the need for new staff stemmed from an increase in volume, Albers said, though he said the Web design work had "really taken off."
He's hoping to rent out the 220 Oak St. building in a year or two for retail use, for either one or two stores.
The building, which was constructed in the 1930s, "was in pretty bad shape," Albers said. "We resealed the roof. There were a lot of drainage-water issues."
Renovation work included digging the building's back out and sealing and rebuilding the foundation where it was damaged, Albers said. Other, more obvious improvements include new floors, walls, ceiling and lighting. The renovation cost about $150,000, Albers said.
Sindy Dominick, Able production manager for printing and shipping, said the facility would be producing about 1,700 training books a week.
The shop, which for now will only be producing for Able, is staffed by four people, and is set to be on-line this week, once employees are trained on the binding machine.
The shop has four imposing-looking print machines, which can each turn out 135 double-sided pages a minute.
Public printing - that is, for customers not Able - may be considered, Dominick said, sometime in the future, "depending if we can keep up with our own demand."
Besides saving the company money, the site should also make shipping published materials easier, Dominick said, as the shipping department was formerly located in the main office's basement.
Albers has been at the forefront of investing in downtown Bonner Springs, including his role as the principal behind the newly restored and renovated David House, at 221 Front St.
Many of the new employees at Able, Albers said, are from Bonner Springs.
"It's fun being part of what's going downtown," he said. "Years from now it will be a cool little town."