Options plentiful for old computers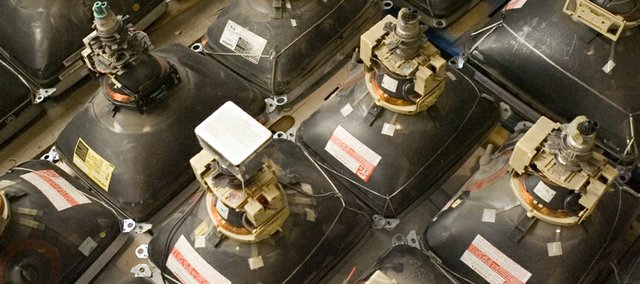 If you've got an old computer and you're planning to toss it in the trash, you might want to rethink that decision.
It can be recycled, although it's an easier venture in some places in the region than others - and sometimes for free.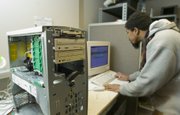 From Lawrence to Shawnee, recycling of electronic waste - computers, monitors, printers, television sets and other electronic equipment - is an option for residents of Douglas, Johnson, Leavenworth and Wyandotte counties.
In Douglas County, the city of Lawrence's Waste Reduction and Recycling Division Web site, lawrencerecycles.org/computer.shtml, lists sites where electronics can be dropped off or donated in Lawrence.
One option is UNI Computers, 1403 W. 23rd St. UNI accepts unwanted electronics for recycling, in most cases without charge. Computer monitors, which are considered hazardous because they contain lead, come with a $10 handling fee for recycling. Store manager Chad Frickey said the cost is worth the benefits.
"It's much cheaper for you in the long run to recycle with us instead of throw it away and let it destroy the environment," Frickey says.
Another option is Office Depot, 2525 Iowa St. As part of the chain's Tech Recycling Service, the store sells three sizes of boxes that can be filled with electronics to be recycled. The charge for the box - $5, $10 or $15, depending on size - covers the shipping, handling and recycling costs.
Other retailers in Lawrence offer free drop-offs for smaller electronics, such as cell phones and rechargeable batteries. Those retailers are listed on the city's Web site, as are several computer companies that offer programs for trading in old computers.
Kathy Richardson, waste reduction and recycling operations supervisor with the city of Lawrence, hopes to see more manufacturers get involved in recycling programs.
"When you can't get a national solution, you hear about all these cities or counties taking it on themselves," Richardson says. "It's kind of a struggle for cities and counties that don't have the resources available. We're lucky that we do. At the same time, if we just do that, we're not encouraging the manufacturers."
Good business opportunity
For the past year, Shawnee residents haven't had to travel far to recycle their old electronics.
A year ago, R3 Technology, located just south of the Shawnee city line in Lenexa at 7935 Nieman Road, began accepting just about anything electronic for recycling.
R3 Technology formed four years ago as an asset disposition company, buying and reselling electronic and technological merchandise as it came out of use from companies, cities and school districts.
Kyle Skinner, company sales manager, said R3 Technology soon realized it needed to add demanufacturing and recycling to its list of functions.
"We ended up just having a warehouse full of electronics we were unable to sell, so we looked into the recycling aspect," he said.
Skinner said because recycling and green efforts had become so large, company officials knew it wouldn't be long before recycling electronics became mandatory by law. They decided electronic recycling was both a good business opportunity and something that could serve the community.
R3 doesn't have the proper facilities for the actual recycling of electronics, but Skinner said the company was working toward that in the future. Instead, it first tries to extend the life of items through remarketing or donations. If that is not possible, R3 demanufactures the items and sends them to EPA-approved recycling companies.
The company accepts most electronics from the public for recycling at no charge. Because of costs associated with properly disposing of some equipment, R3 charges $4 to recycle computer monitors and $7.50 to recycle televisions.
R3 is among the companies Johnson County may look into using when it starts electronic recycling collections, which is planned for later this year.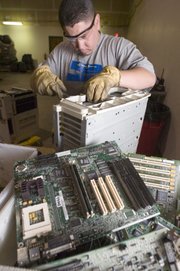 The effort is part of the county's new Solid Waste Management Plan, which aims to reduce the amount of waste going into the Johnson County Landfill in Shawnee in part by increasing recycling efforts.
Cindy Kemper, director of Johnson County's Environmental Department, said residents there recycle only 23 percent of their waste, below the national average of 32 percent. The county's plan outlines methods that would encourage residents to recycle more than the national average.
"We felt it would not be adequate for us to just meet the national average; we're not an average county in any way," she said.
Johnson County hopes to begin accepting electronic items for recycling, or "e-trash," this spring at the Household Hazardous Waste recycling site in Mission. Betsy Livingston, site director, said officials still are ironing out the particulars, but the site would likely accept e-trash on the second Saturday of the month by appointment.
Johnson County would hire an outside company to actually recycle the materials and so would charge residents for the e-trash, Livingston said.
Two cities in the county already offer electronic recycling services, although one, in Olathe, is open only to residents of the city.
Overland Park conducts two electronic recycling events each year that are open to anyone in the county; the next will be from 8 a.m. to 2 p.m. April 5 at Shawnee Mission North High School, 7410 Johnson Drive.
Overland Park does not charge to recycle computer CPUs, keyboards, mice, VCRs, stereos, scanners and personal printers. However, recycling computer monitors, televisions and large printers will cost $10 to $25. Organizers of the collection day also ask that recyclers limit the number of computers they bring for recycling to nine.
Collected equipment is inspected, reconditioned and reused whenever possible. Obsolete or nonworking equipment is disassembled and the components recycled.
The events have proven popular for the city; more than 62,000 pounds of equipment were collected at the last event.
Bounty of benefits
Although there are currently no recycling efforts in Baldwin City for electronics, or "e-waste," that could change soon.
Roger Boyd, a longtime professor at Baker University, has headed up recycling efforts there for years that have compiled tons of recycled items. He recently made a proposal to the Baldwin City Council to build a recycling area at the power plant for city residents to use.
"The beauty of my city recycling center plan is that it is flexible and expandable," Boyd said. "If we determined what we needed to do with the e-waste, we could easily set up another portable garage and collect and process it there."
Green-minded people wanting to recycle their e-waste should take the extra step, even if it means going out of town to do so. That includes residents in Leavenworth County and southern and eastern Douglas County.
"All electronics include toxic heavy metals and include other types of chemicals that if people handled on their own, could cause problems or expose them to things they shouldn't be exposed to," said Chet McLaughlin, environmental engineer for the Environmental Protection Agency. "Probably the most important argument to recycling electronics is that it makes our society much more efficient if we recycle old electronics into new electronics that we can all use an enjoy."
By recycling, experts say, consumers can do a lot for the environment. First, they can lessen their impact on landfills. Although electronics account for fewer than 2 percent of the municipal solid waste in the nation, that number is expected to grow if consumers continue to buy electronics at the current rate, according to the Environmental Protection Agency.
In 2005, used or unwanted electronics, including computers and cell phones, amounted to about 1.9 million to 2.2 million tons of waste, according to the EPA. Of that, only 345,000 to 379,000 tons were recycled.
Recycling also helps keep toxins out of the environment. Many electronics, such as computer monitors, contain hazardous materials.
"That is what's most important to keep from the landfill," Richardson said.
For instance, an average of four pounds of lead can be found in computer monitors and older TV picture tubes, according to the EPA. The EPA also lists chromium, cadmium, mercury, beryllium, nickel and zinc as other toxic materials that can be found in electronics.
Why not refurbish?
That old computer system taking up space in the closet or garage can make a difference in the quality of life of area residents.
Charlene Welch said her husband, Doug, founded the non-profit Entrust Computers in 2004 when he recognized the need for computers among low-income individuals and families. By refurbishing donated old computers, Entrust makes computers available to qualifying customers for as low as $25 at its store at 646 State Ave. in Kansas City, Kan.
"They're Internet ready," Welch said. "They might be slow, but some people just want a computer so their children can get on the Internet to do homework."
Those eligible for the rebuilt computers include people with children on free and reduced lunch, a medical card or some other form of state assistance.
Entrust collects computers for individuals, organizations and companies for refurbishing from all metropolitan counties as well as Douglas, Jefferson and Brown counties in Kansas, Welch said. Pickup is available for larger donations, she said.
More up-to-date, faster computers are available at the store as well, Welch said. All computers come with operating software, usually older Windows operating systems but sometime Windows XP in the case of the more expensive computers that can sell for as much as $125.
Entrust also will take Macintosh computers, Welch said. Nonsalvageable computers can be used for parts, she said. The non-profit company also accepts printers, Fax machines and other computer accessories although the focus is on computers, she said.
As a 501(c) 3 non-profit, donations to Entrust are tax deductible, Welch said. But donors will also get the satisfaction of knowing their donations are making a difference, she said.
"People are just very excited," she said. "But people don't even know we are around here. We actually have a renovated abandoned computer we got from the Wyandotte County Land Bank."
For more information on Entrust, call (913) 599-1100, email Welch at entrustpc@yahoo.com or visit its Web site at entrustus.org.
Donate your computer
For the main part of the computer, which contains the central processing chip and the hard drive, there are a number of different organizations you can donate to online at rethink.ebay.com.
The site, which is part of eBay, also features tools for those who want to sell computers and other electronics. There you can find links to pricing guides, tips for selling and other resources.
An area nonprofit organization that accepts computers and other office equipment is Surplus Exchange, at 518 Santa Fe, Kansas City, Mo. The organization's phone number is (816) 472-0444. Its mission is to divert office equipment from landfills.
The rest of the computer system - the monitor, keyboard and accessories - can be donated to Goodwill. As long as the items are in working order, you can take it to a Goodwill store at any of its area locations.
Goodwill is an organization that sells donated items - most famously clothes, but also furniture, appliances and electronics - to fund job training and other services to help train and prepare people who are disabled, homeless and otherwise struggling to prepare and train for steady jobs.
Amy Randolph, spokeswoman for Goodwill Industries, said the organization accepts "most everything that's brought to us unless it's in really bad condition : of course we want everything to be in working order."
That includes electronics and cell phones generally considered obsolete, she said.
Cell phones donated to Goodwill are distributed to local agencies. Donators of cell phones and other devices with potentially sensitive information should make sure to erase the data before dropping their items off.
More information is available online at mokangoodwill.org.
Securing data
One other benefit to recycling over dumping your unwanted electronics is the potential to keep your data secure.
UNI in Lawrence, for example, offers data scrubbing services for those concerned about information contained on their hard drives.
"I've heard people that are cleaning out their garages or basements, but they just didn't want to just throw it in the Dumpster because of data issues," Frickey says.
If you want to delete the information yourself but don't know how, ask at the store where the computer was bought or contact tech support for the computer or the maker of its operating system.
Most PC users can get information online at support.microsoft.com/contactussupport/?ws=support.
Macintosh users can find instructions on three different ways of transferring data at apple.com/getamac/movetomac.
The EPA also offers tips for consumers who want to remove data on their own. The agency's guidelines are available at www.epa.gov/epaoswer/osw/conserve/plugin/pcthing.htm.
Collection drive in works
In addition to keeping track of local recycling options, Lawrence Waste Reduction and Recycling Division is also developing an electronics collection drive.
"We really don't know much about handling electronic waste," Richardson says. "We're definitely trying to learn as much as we can about that and not only that, just being really smart about choices."
One of those choices is where the electronics are recycled. A lot of electronic waste that is collected to be recycled is sent overseas, Richardson said, where it is improperly handled or can end up in landfills.
"A lot of communities here in the United States have had these collection events, and everybody feels so happy they're recycling and they're not ending up in landfills," she says. "But then it's ending up in Third World countries where the waste ends up polluting the rivers."
Richardson says the city is making sure to partner with companies that can assure the collected items would be recycled safely.
She says the need for recycling options will continue to grow, especially as more consumers switch to high-definition televisions.
"I think that throughout this year, there's going to be even more calls because of the TVs switching out," she said. "We've been learning about it and we're getting ready to get into action."
- Staff writers Elvyn Jones, Caroline Boyer, Jesse Truesdale, Jeff Myrick and Estuardo Garcia contributed to this report.