Blew, Flynn lead Lions at Baldwin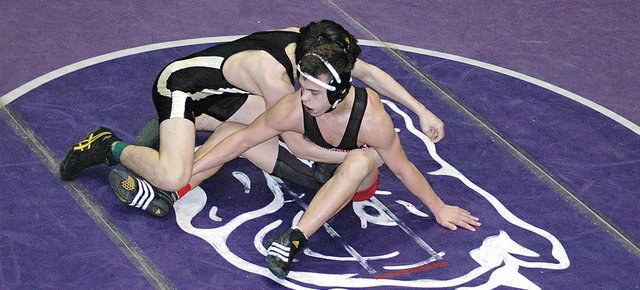 Photo Gallery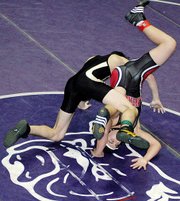 Lansing wrestlers at the Baldwin Invitational
Baldwin — The Lansing High wrestling team has yet to compete with a full, healthy squad this season, but the bits and pieces have been impressive in their own right.
The latest partial LHS squad was in action Saturday at the Baldwin Invitational, and the nine Lions combined for a seventh-place finish in the team standings.
Oak Park (Mo.) compiled 419 points and won its fourth straight team title. Santa Fe Trail was second with 202 and Prairie View placed third with 181. Lansing had 146 points.
Two Lions earned third-place finishes in their respective weight classes, two placed fourth, two were fifth, two were seventh and one placed eighth.
LHS coach Ron Averill said he was pleased with his team's performance, and he called it a tune-up for the postseason.
"This is a real valuable tournament in that it gives us the ability to analyze ourselves," he said. "Every guy on the squad had good matches. Every guy on the squad got to see things that they need to work on, and that's a real valuable asset right now.
"This is a quality tournament, and we were able to see some of these guys in two-point matches with state placers. That's very encouraging."
Freshman 125-pounder Spencer Blew and senior 152-pounder Nick Flynn were Lansing's top individual performers. Both placed third in their respective weight classes.
In addition, junior 160-pounder Grant Hinckley and junior 215-pounder Tyler Strouhal finished fourth; freshman 145-pounder Tyler Baughman and freshman 171-pounder Nathan Wessel were fifth; junior 135-pounder Wes Appleget and freshman 140-pounder Tyler Terron placed seventh and freshman 119-pounder Garrett Hinckley was eighth.
Blew and Flynn both went 4-1 for the day, and Blew made some of the biggest individual gains throughout the tournament. He'd struggled in the third period for much of the season, but by his final match of the tournament he found ways to deliver for three solid rounds.
"He wrestled a lot better," Averill said. "He did a lot of the things that we talked to him about. It was obvious that he was working on those things and trying to do things better."
Strouhal also walked away from the tournament with plenty to feel good about, including two encouraging losses to top-tier opponents. He went 3-2 for the day, but he went the distance with defending state champion Jake Kober of Santa Fe Trail for the first time and then had a narrow 4-3 loss to Jack Delashmit of Mill Valley. The pair likely will meet again Feb. 9 at the Kaw Valley League Tournament.
"He's wrestling a whole lot stronger, and a lot smarter," Averill said of Strouhal. "That's just making a huge difference in the way things worked out."
SENIOR NIGHT
Flynn and fellow senior Dennis Wood will be recognized at 5:30 p.m. today during Lansing's Senior Night triangular with Bonner Springs and Tonganoxie.
Flynn, a state runner-up last year at 145 pounds, currently is 31-3 and ranked No. 3 in the state at 152 pounds.
Wood was a state runner-up a year ago at 103 pounds, but has yet to wrestle a match this season because of a back injury. He has not been ruled out of competition this year, however, and it is possible that he could return to the mat as soon as tonight. If he competes, it will be at 119 pounds.