Bomb threat probe ongoing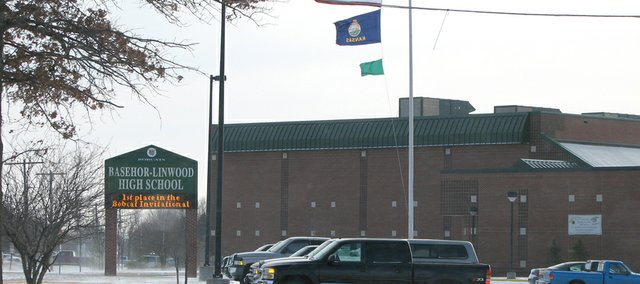 Students were evacuated from Basehor-Linwood High School Friday morning after a bomb threat was discovered.
According to Basehor Police Chief Lloyd Martley, a couple of students found a note on the counter of the school's front office window indicating a bomb was in the school. The police were notified around 10:30 a.m. after the students brought the note to a high school administrator.
"We notified the police department and then implemented the district's crisis plan," Assistant Superintendent David Howard said Friday.
Students were evacuated to the high school's football field after police walked the perimeter of the field to make sure there were no suspicious packages or book bags, Martley said. The students were then bused to the Basehor Elementary School and Sixth Grade Center gymnasiums.
Howard said the students spent most of the afternoon there, including their lunch periods. The elementary school students ate lunch in their classrooms, while the high school students stayed in the gymnasiums. Parents were notified through the district's automated calling tree.
"Parents did have the option to go down there and sign the kids out," Martley said.
The Basehor Police Department brought in a few other departments to assist with the incident including officers and a bomb squad vehicle from the Leavenworth County Sheriff's Department and officers and dogs from both the Fort Leavenworth Police Department and the Olathe Police Department. Kansas Emergency Management was also on the scene and the Fairmount Fire Department was on standby at the nearby Heritage Apartments.
"We swept the building for any type of explosive device," Martley said. "Nothing was found. At approximately 2:30 (p.m.) we released the school back to the administration and the students were delivered back to finish out the rest of the day."
Martley said the process went smoothly and Sheriff David Zoellner was instrumental in making sure the Basehor Police Department had the back up it needed.
"The outside agency assistance was outstanding," he said. "That was something that was very helpful. The evacuation process and the support from the school and outside agencies was well coordinated and everything went exactly how it was supposed to."
This is the third bomb threat that has been discovered in the school within the last month and a half and the administration is taking steps to ensure the safety of students, Martley said. A Basehor police officer has been on the premises of the high school all day, every day this week and students have been required to show the contents of their bags to administrators before entering the school each morning. The school is also offering a $300 reward for any information leading to an arrest in the incident.
"The situation is still under investigation," Martley said. "We received a lot of information from various students about potential suspects and we are following up on those leads at this time."