City continues push to keep signal at 155th St.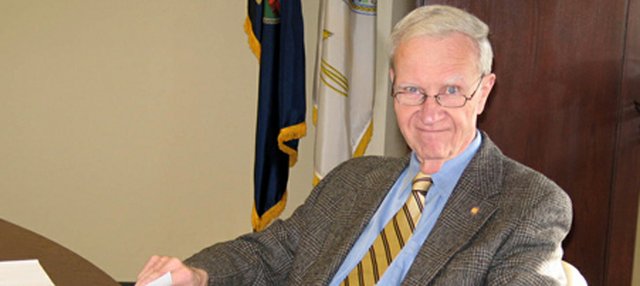 A delegation of Basehor staff, businessmen and elected officials continue their efforts to keep a traffic signal in place at one of the city's main intersections.
During a meeting Monday with Kansas Department of Transportation representatives and the Leavenworth County Commission, Basehor representatives urged KDOT members to retain a signal light at 155th Street as improvements are made to U.S. Highway 24-40 as part of a corridor improvement project.
A preliminary corridor management plan is calling for the eventual removal of the light, something "that at the present time, doesn't seem to be an option for (Basehor)," City Administrator Carl Slaugh said.
Slaugh noted that, in order to be eligible for corridor funding from KDOT, Basehor officials would have to approve a plan with one-mile spacing of signal lights.
He presented a City Council-approved resolution, however, requesting full-access intersections at 142nd, 150th, 158th, 166th and 178th Streets, while keeping the light at 155th as well.
"How do you get consistent spacing and still keep what's out there on the ground?" Slaugh asked.
Kristi Pyle, with KDOT, replied that the corridor management plan was written to "maintain mile spacing" and to keep traffic moving "efficiently and safely."
She pointed to a high number of respondents to a U.S. 24-40 corridor management survey who emphasized maintaining high speed limits with minimal stops on the highway.
Of the 601 households along U.S. 24-40 that were randomly surveyed in March 2007, 72 percent said the current travel speed (65 mph) along the highway through Basehor was appropriate, and 84 percent said, "New streets that cross US 24/40 highway in the future should be limited so that traffic can continue to flow much as it does today."
Commissioner Clyde Graeber supported efforts to protect the signal light at 155th Street, a road he said was vital to the county's "fastest growing community."
"We want to take no action or encourage action that would deter that growth," he said.
Bill New, chairman of Basehor's First State Bank and Trust, said the city and various business owners have made sizeable investments near 155th Street and U.S. 24-40.
"I think it (155th Street) should remain lighted," he said, pointing to the Basehor fire department, post office, police station and City Hall, which are all on 155th.
Ed McIntosh, a developer who said his plans for a $7 million grocery store at the northeast corner of 155th and 24-40 have been put on hold for nearly two years while waiting for corridor study results, told those present that closing 155th Street would not help the project, but he also added that improvements to 150th and 158th Streets would alleviate pressure on 155th.
McIntosh had previously petitioned KDOT to add right-in, right-out access at 153rd Street leading into the development instead of creating a reverse frontage road there.
"I just want to see some kind of agreement made," McIntosh said. " : I'm tired of waiting."
Tonganoxie City Administrator Mike Yanez voiced his opposition to slowing down travel time through Basehor.
Yanez noted approximately 110 private driveways that currently exist between Honey Creek Road in Tonganoxie and Kansas Highway 7.
"We (in Tonganoxie) like to say we're only 30 minutes from Kansas City," Yanez said as justification for keeping traffic moving, adding, "This is a bitter pill to swallow : but later on, we'll see it will add to traffic safety."
John Flower, who serves as chairman of the Basehor Planning and Zoning Commission and has been heavily involved in discussions regarding improvements to U.S. 24-40, said, "It's natural that there's going to be a slowdown in Basehor and Tonganoxie."
He said, while he understands the signal light at 155th Street eventually may need to be removed as growth centers around north-south roads more suited for development, he didn't understand why the current corridor plan could not be adopted with certain provisions in place, especially "when there's so much available money on the table to make a dramatic change to the makeup and economic potential of the city of Basehor."
Although no agreement was reached Monday, Pyle said, "We're going to continue to work with Basehor : KDOT wants as an agency to actively engage in these conversations."
In other business Monday, the Leavenworth Board of County Commissioners:
¢ Considered adjusting tipping fees charged for trash disposal at the Leavenworth County Transfer Station, east of K-7 on Gilman Road.
Solid Waste director Jason Auvil suggested rate increases for in-county, out-of-county, commercial and noncommercial users to reflect increased operating costs at the transfer station and a fuel surcharge agreed upon by the commission in an October, 2007 meeting.
Auvil's minimum recommendation was to increase the price per ton for in-county standard waste and construction and demolition waste (currently $27.50 and $32.50, respectively) by 50 cents while increasing standard waste and construction and demolition waste rates for out-of-county users (currently $35.50 and $40.50, respectively) by the same amount.
All tire disposal rates would rise, as would the cost for out-of-county users disposing of brush, according to Auvil's proposal.
No action was taken as commissioners asked for an updated report with actual end-of-year figures before making a decision.
¢ Approved a contract for Kim Hundley as the county's new city/county probation agent at a yearly salary of $44,156.
¢ Met in executive session for 10 minutes with human resources director Diane Collins to discuss personnel.