Family happy, once again, to sit down to meals together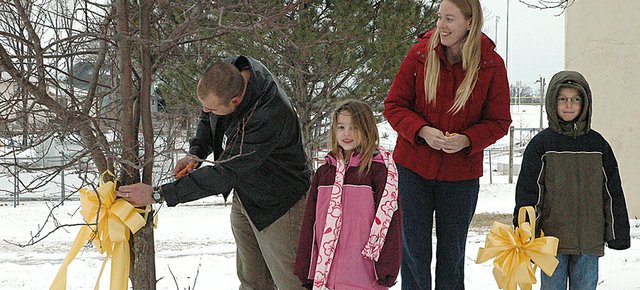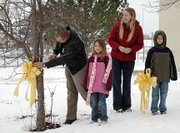 It's been 15 months since Maj. Jerry Diamond has sat down at the dinner table and shared a meal with his family.
While Diamond was away serving his country in Iraq, his family - wife Victoria, son Alex, 8, and daughter Allison, 6 - had to carry on despite the one empty seat come dinner time. But like many families who have someone fighting in the war, the Diamond family filled that void with memories and love.
That empty seat has finally been reclaimed, however, as Diamond has returned home and has since made sure to eat every dinner sitting side by side with the family he missed so dearly.
To celebrate his return, Diamond cut down two ribbons Friday, Jan. 25, at Lansing Elementary School that were hung by his children in his absence to show off their pride for the service their father has given.
Classmates from Nancy Collard's first-grade class and Michele Forge's second-grade class joined in on the celebration and let out a loud cheer as each ribbon came down from around the tree trunks.
"This is the best day of my life, because I got to meet a hero," said a 7-year-old from Forge's class after meeting Diamond.
Upon hearing that, a reluctant expression crept over Diamond's face.
"It's the wives and the families at home who are the true heroes," he said.
Diamond gives a lot of credit to his wife for being able to maintain the household and children and be at the school almost every day, volunteering with classroom projects and school events.
Diamond said he knew he had nothing to worry about when it came to how things were back at home, which was a relief. When you're in a combat zone, he said, you can't worry about what's happening with your life back in the States. He said he's seen soldiers who were brought down by the distractions at home, taking away from a mission that requires complete attention.
Diamond left in November 2006 to join a military transition team in Iraq. He was an adviser to Iraqi border police between the Tigris and Euphrates rivers that ran parallel to each other along the country from the northwest corner to the southeast corner.
While he feels that his work made a difference, he modestly adds that there are so many other "great Americans" over there.
"My team was definitely important in the fight in Iraq, but I am just one of many doing great things over there every day," he said.
Throughout the process, he said there was a lot of job satisfaction that helped him deal with feelings that went along with missing his family. This was the second tour of duty for Diamond, who was in Iraq from January 2004 to March 2005. Before that, however, Diamond said he had been preparing for his mission for more than 10 years. Serving in Iraq gave Diamond the chance to finally use the skills he had learned through training with the military and felt like he was able to fulfill his duty.
One of Diamond's proudest moments was arranging for an Iraqi interpreter to secure a visa for the United States. Dealing with the bureaucracy of the process was a challenge, but Diamond said it was worth it.
"He (the interpreter) spent five years serving the American Army, so it felt good to reward that kind of commitment," he said.
When it came time to come home, Victoria said she and the children couldn't wait for Diamond to get off his plane at Kansas City International Airport. She said the children were pacing back and forth, and when the plane finally came in they all watched as unfamiliar faces flashed past the small windows. At last the family spotted their returning soldier and Alex ran through the checkpoint ignoring security guards as they tried to stop him.
"We were just so excited we couldn't contain it," Victoria said.
That excitement has been calmed a little, and now the family has settled into reacquainting itself with one another. Diamond said he's dealing with the huge changes his children underwent in his absent like learning to read and spell.
That's where family dinners come into play. The Diamond family makes it a priority to sit down together for a meal every night and talk. It's those talks that will bring them closer and give them the strength they'll need to handle the next inevitably absence as Diamond is sure he will have to depart once again.