A feel-good victory
Lineup ravaged by illness, but Lions find way to win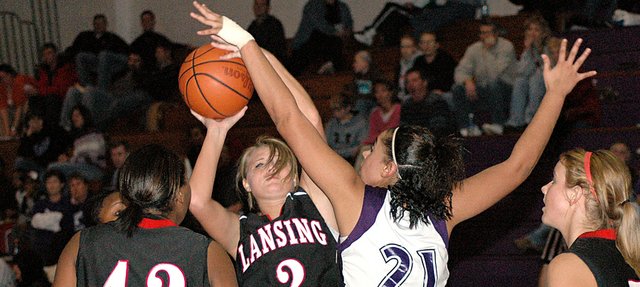 Photo Gallery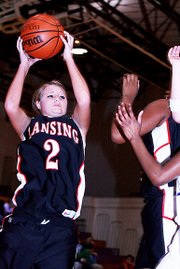 LHS girls beat Piper
The photos in this gallery were taken by Lansing High student Dylan Delich.
Photo Gallery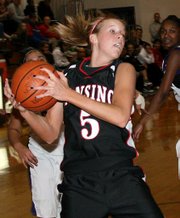 Lansing girls hand Piper first league loss
The photos in this gallery were taken by Lansing High student Griffin Davis.
Photo Gallery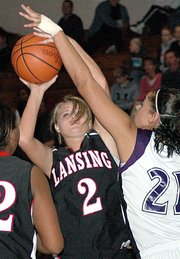 Lansing girls 60, Piper 49
Kansas City, Kan. — On a night where the water bottles should've been replaced with Robitussin, the Lansing High girls basketball team conquered both illness and the Piper Pirates with a 60-49 road victory.
Senior starter Katie Nietzke missed the game with the flu. That required other Lions to step up in her place - not an easy task when most of them were under the weather too.
"It's kind of hard right now because we're missing Katie, half the team's sick, it's Tuesday and it's cold," senior forward Christine Cordes said. "A lot of factors were weighing upon us, and what we did is we just stayed focused the whole game. We knew we couldn't lose this game, and we didn't want to, so we weren't going to let small, insignificant factors that were bothering us get in the way of winning."
Piper scored first with a pair of free throws, but Lansing used a quick 11-0 run to take the lead as Cordes and Amanda Darrow dominated on the inside and Brittney Lang lit up the scoreboard from the perimeter.
A flurry of points by Piper's Michelle Selbe brought the Pirates back, and they led 21-16 midway through the second quarter. The Lions closed the first half with a 15-0 run as five different players scored.
Lansing's 31-21 halftime lead was comfortable, but the Lions weren't safe yet. Piper's J.C. Carroll scored 13 of her 17 points in the second half and brought the Pirates within four points early in the fourth quarter. A three-point play by Patrice Lasley whittled the lead to just 50-49 with 1:46 to play.
Piper didn't score again, however. Lansing forced two turnovers down the stretch and went eight-for-eight from the free throw line - two by Lang and Cordes and four by Amy Briggs. A layup by Darrow in the final seconds capped the victory.
Lang was a menace on both ends of the court as she forced numerous turnovers and poured in a career-high 24 points.
"Brittney played great, and played both ends," LHS coach Keith Andrews said. "She had to play a complete game, and she did."
Cordes scored a career-high 12 points for the Lions. Briggs finished with 10 points, Darrow had eight, Alexis Ellis had four and Katelyn Griffen added two.
Selbe scored 18 points for Piper.
Andrews praised his team for handling the adversity so well Tuesday, and he also credited his players for not looking past Piper to its 6 p.m. Friday league game at first-place Basehor-Linwood (12-1).
Lansing is 10-4 this season and 7-1 in 2008.