First-grader's wrestling with dad's absence ends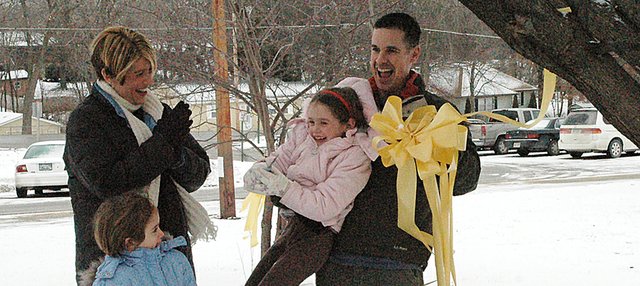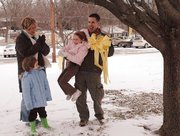 The first thing Megan Weaver wanted to do with her dad when he returned from his 15-month deployment in Iraq was wrestle.
And that's exactly what the two finally got to do last week when Maj. Seth Weaver returned home to his family, 7-year-old Megan, 5-year-old Mackenzie and wife Patricia.
The second item on Megan's to do list, however, was to take down the yellow ribbon that was hung in her father's honor outside Lansing Elementary School.
"The ribbon was really important to Megan," Patricia said. "It showed that the school and her friends supported her dad."
So on Friday, Jan. 25, the family, along with Megan's first-grade classmates from Jennifer Leitsch's class, gathered around the tree holding the ribbon. Weaver lifted his daughter in the air, and Megan cut through the yellow ribbon, bringing down the symbol of her father's absence.
Megan said she was excited to have her dad home, because she was sad when he had to leave and missed him a lot. While he was gone, though, Megan said she sent cards and pictures, which helped both of them get through the tough times.
Patricia said she could see daily just how much her two girls missed their father. She said the family's time apart was long and exhausting. Just simply having her husband around the house became a big void in her life that she said she just had to deal with day by day.
Weaver agreed that the time apart from his family was the hard part of being gone. He said he missed his family and the life he lived before leaving for Iraq.
"Things you get to do here you can't do anymore," he said.
Because of his location and living situation, Weaver had Internet access in his room and was able to communicate with his family on a daily basis. Both he and Patricia agreed it was a blessing Weaver had Internet access and are thankful they had that option to help everyone deal with the distance of the separation.
While in Iraq, Weaver was a team chief of a military transition team living on an Iraqi base in Mosul, in northern Iraq. He and other American officers trained Iraqi soldiers to help the country build and maintain a successful army that can survive on its own without help from the United States.
Weaver said he was sure his work made a difference in Iraq. He said his team was able to teach Iraqis supply management techniques that involve tracking and maintaining new equipment, which he said is pivotal when it comes to winning a war. This type of sharing led to stronger relationships that would help both countries in the future.
"Really the biggest thing was that as American soldiers and American people, (the Iraqis) knew we were there for them," he said.
Weaver remembers one day when the Iraqi soldiers suffered severe casualties and injuries during a battle. He said Americans were out in the field taking care of the Iraqi casualties and at that moment he said the troops bonded a formed a strong partnership.
"It doesn't matter what country you're from. A soldier is a soldier," he said.
When Weaver finally made it home to his family after a four-day trip, he said it was a relief to be back and was looking forward to just relaxing for a bit.
Adjusting back to civilian life has gone well so far. Weaver said it hasn't been as bad as he expected but that loud noises and helicopters still bother him and take his thoughts back to the war torn country where everyone was always on edge for the next attack.
Since returning the Weaver family has packed up and said goodbye to Lansing. Their new home will be Fort Carson, Colo., where Weaver will be assigned to a new position as a training officer for an infantry battalion.
In the back of his mind, he said the possibility of returning to Iraq was looming. While he may expect it, he said he's not looking forward to having to leave his family again.