KSU

coach eyes Lansing football players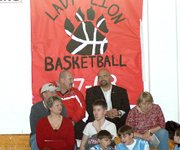 Two burly-framed men with identical shaved heads were perched high above center court for the Lansing High boys basketball game against Bonner Springs on Friday night.
Their vantage point from the top row of the bleachers gave them a view of the entire gym so they had plenty of room to watch the players operate on the court below.
Those men were LHS football coach Bill Pekarek and his special guest for the night, Kansas State University head football coach Ron Prince.
Prince was in town to take a look at a few Lansing football players who also are on the basketball team. Pekarek said Prince wanted to take a look at junior Cody Rush - a 6-foot-7 forward who plays on the Lions' offensive line during football season. Pekarek said Prince also wanted to talk to LHS senior Bobby Hauver, the Lions' quarterback during an 8-2 season that included a Kaw Valley League championship and an appearance in the Class 5A state playoffs.
Pekarek said Prince also had hoped to talk to senior running back Chris Hill, who was out of town Friday on a recruiting visit at the U.S. Naval Academy. Hill committed to play for the Midshipmen during the visit.
Prince wants to start an in-state walk-on program like Nebraska used to have.
Pekarek said Prince left the gym with a longer list of names to consider.
"He was very impressed with a lot of our kids, and not just the guys he came to watch," Pekarek said. "He came to watch Bobby and Cody, and Hill wasn't there. But he was impressed with (Stephen) Didde and Kevin Johnson. Even when guys were coming in when it's at the end of the game, I'm saying, 'Well, that guy's a backup defensive end,' and he's like 'Wow, I kind of like the look of some of those guys.'"
"It was really neat," Pekarek added of Prince's visit. "He's a class guy, and he had a lot of great things to say about our kids and about our school. It was really neat that he came out."
Prince's personal visit to LHS isn't the first time he has been in contact with Pekarek and the Lansing football program.
The K-State staff requested film from some of Lansing's football games early in the season. Prince and his staff watched the tape in their hotel room the night before the Wildcats pummeled Texas.
The following Monday, Pekarek's cell phone rang.
"He said, 'Coach, I just wanted to call you personally, because Friday night we were sitting around in our motel, we kicked in the tapes you guys sent us, and I was really impressed with the style of play that you guys play. I really like what you guys are doing,'" Pekarek recalled. "And I said, 'Well, God, that's a great compliment,' because you never hear anything about anything from anybody.
"He said, 'I was so impressed that I wanted to make sure I called you myself.'"
In the months that followed, K-State assistant coaches made their way to LHS.
Friday was Prince's turn to stop by.
Pekarek said it's the first time he recalls having a Division I head coach from a major conference come scout Lansing players.
Pekarek also said there has been a noticeable absence on the list of schools recruiting Lansing football players: Kansas.
"KU hasn't been in our building since 1997; I keep telling Prince that," Pekarek said. "You guys have been here five times, and you came yourself. You came yourself, which is real impressive.
"I said, 'We're real impressed with you being here : wanting to come here.' I've told him this on E-mail, that KU's never been here since 1997. They don't even send these guys (letters). Cody gets a letter from Nebraska, Oklahoma, Oklahoma State, Purdue, and every once in a while Stanford, every week : and K-State. He gets nothing from KU."