Local author talks books, basketball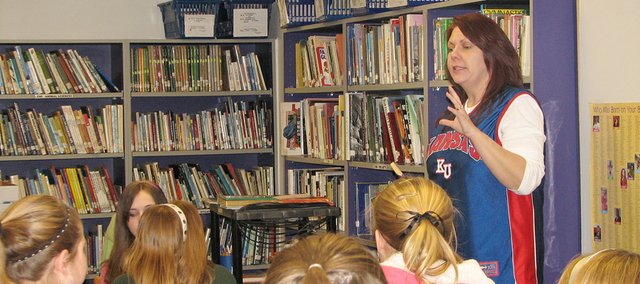 Tonganoxie author Lisa Harkrader donned a Kansas University basketball jersey Friday afternoon while talking to Basehor-Linwood Middle School students, not only for the love of her alma mater's basketball team, but to go along with her book "Airball: My Life in Briefs."
The young-adult novel features a klutzy, small-town Kansas seventh-grader, Kirby Nickel, who tries out for the basketball team to meet the former NBA star coach. But, when the coach buys newfangled uniforms to try to improve the team's playing ability, Nickel and his teammates find themselves playing in their underwear. The book was also nominated for the Kansas 2007-2008 William Allen White Children's Book Awards.
Not only did students have a chance to have their copies of Harkrader's book signed, but also heard about the journey through her writing career, which began at an early age.
"I first realized I wanted to be a writer when I was in the third grade because I loved to read," she said. "I knew somebody had to write all those books I loved to read, and I wanted to be one of those people."
The Tonganoxie native said she continued to write throughout her childhood and had her first story published in high school. She then earned a degree in art, her second love, and got a job as a designer. It wasn't until the early 1990s that she decided to try writing full-time.
Harkrader said people often think finding story ideas is the hardest part, but the author's "idea box" was a tool that helped her create many of her published stories for children and adolescents. Every time she saw something that seemed interesting, from newspaper clippings to every day occurrences, she put it in the idea box.
She saw a sprinkler watering the street instead of the grass on a trip to Leavenworth one day, which turned into "Prunela Thigpin," a story about a lady who used a sprinkler to keep cars from parking in front of her house and a group of kids that turned it into a carwash.
Giant dust bunnies swirling around the large electronic equipment at work didn't prompt Harkrader and her co-workers to clean them up, but name them. The idea was later pulled from her idea box and turned into the story "Something Terrible."
"You all have story ideas," she told the students. "You just don't know it. Writers are the people who remember them and write them down."
Other ideas came from a mixture of her own ideas and publishers' desires. One publisher already had the art to go into a book made up of a collection of Christmas stories but didn't have the stories. Harkrader said she was asked to think of a story to go with the illustrations, which were mostly pictures of barnyard animals in the snow from old board books.
"My first thought was, 'I can't take art that's already made then make a story out of it,'" she said. "Then I decided it was a really good writing exercise."
Switching it up a little bit, the author wrote several research books on animals, India and the Civil War and also served as a ghostwriter for the "Animorphs" young-adult science fiction series. But, she found the ultimate story idea when she stumbled upon a publisher looking for fractured fairytales. She told the students she always thought fairytales were kind of stupid because there was always something that didn't make sense.
"If you went to grandma's and found a wolf in your grandmother's clothing, would you think it was your grandma?" she asked of the students, who responded with a resounding "no." "Me either. That's why I couldn't figure out why that happened to Little Red Riding Hood. Fractured fairytales take the things that don't make sense and make fun of them."
"Rudy and the Prince" featuring Prince Charming was Harkrader's first fractured fairytale. Soon after, she began another one that followed the fairytale "The Emperor's New Clothes" called "The Gym Teacher's New Sweats." About five years later, she presented the manuscript to her publisher and the revision process began. Harkrader showed each of her manuscripts to the students, explaining the process of revisions from incorporating publisher and editor ideas to correcting mistakes the copy editor catches.
"The copy editor is like the pickiest English teacher you've ever had," she said.
But, she said, that was good because they fact check and find any potentially embarrassing mistakes before the book is published.
With some editing and a book cover makeover, the fractured fairytale "The Gym Teacher's New Sweats" turned into "Airball: My Life in Briefs."
"The fractured fairytale was a good scaffolding," Harkrader said. "But, then we got rid of it, so the story became much, much better."
Harkrader said she is currently working on an untitled young-adult mystery novel, as well as a middle grade novel titled, "The Adventures of Bean Boy." For more information about the author, visit her Web site at ldharkrader.com.