Piper hands
LHS

boys first loss of 2008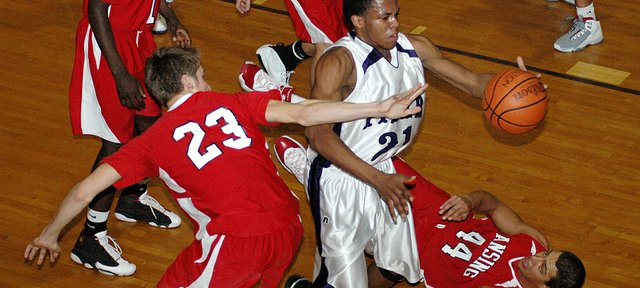 Photo Gallery
Piper boys beat Lansing
The photos in this gallery were taken by Lansing High student Dylan Delich.
Photo Gallery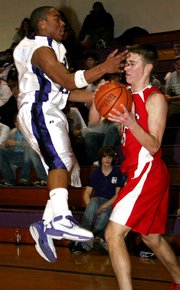 Lansing boys fall to Piper
The photos in this gallery were taken by Lansing High student Griffin Davis.
Photo Gallery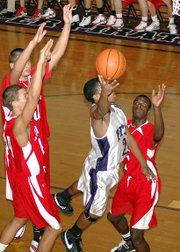 Piper 57, Lansing boys 55
Kansas City, Kan. — The seven-game winning streak is over.
The Lansing High boys basketball team suffered its first loss in eight games in 2008 with a 57-55 setback Tuesday night at Piper.
The loss came on a night where the Lions shot a higher percentage than Piper, 45.8 percent to 42 percent, and committed five fewer turnovers than their opponent, but they still let the game slip away.
Inconsistent focus on defense and sloppy play on offense were parts of the problem, but there was another glaring fault: free throws.
"Ten-for-21 from the free throw line is not good," LHS coach Rod Briggs said of his team's lack of accuracy from the charity stripe. "That means, in reality, if you just make a couple you win the game."
Piper made more than a couple free throws. It sank nine of 11 tries.
Lansing made its first three shots and took a quick 7-2 lead. The Lions continued to keep the Pirates at arm's length and led 13-9 after the first quarter.
Piper used an 11-1 lead during the first five minutes of the second quarter to take a 20-14 lead. Lansing went nearly six minutes without scoring before Stephen Didde's baseline jumper sparked an 8-0 run to close the half. Kevin Johnson's jumper at the buzzer put the Lions ahead 22-20.
There were six lead changes in the third quarter before Lansing opened up a six-point lead. The Lions seemed in control when they led 48-43 with 4:37 left in the game, but then the momentum shifted.
Piper's Jamal Jarrett converted a three-point play. Bobby Hauver answered with a layup for LHS. Robby Mason swished a three-pointer for Piper. Hauver responded with a pair of free throws. Duane Smith made a layup that inched the Pirates within a point at 52-51.
Hauver hit one of two free throws with 1:27 left that gave LHS a two-point lead. Mason tied the game 11 seconds later when he sank a pair from the stripe.
Back-to-back Lansing turnovers in the final 40 seconds led to Piper's final four points and ultimately sealed the Lions' fate.
"The turnovers hurt us. You can attribute that to their quickness," Briggs said.
Hauver and Johnson led LHS with 13 points apiece, Cody Rush had 11, Didde scored nine, Chris Hill had three, and Curtis Beall, P.J. Sigle and Richie O'Donnell chipped in two apiece.
Smith scored a game-high 16 points for Piper, Mason had 15 and Jarrett added 13.
Lansing (10-4) next plays at 7:30 p.m. Friday at Basehor-Linwood. The Bobcats won the first meeting of the season by one point on Dec. 19 at LHS.