Planner to the rescue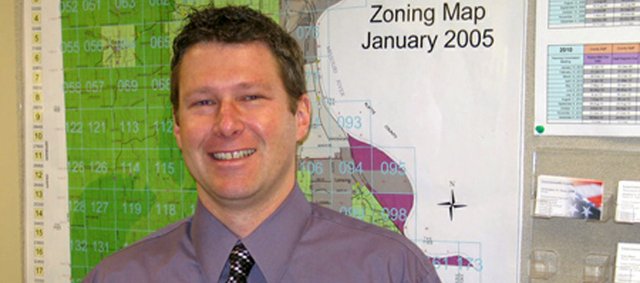 Fresh from the mountains of Colorado, Steve Clay is the newest member of the Leavenworth County Planning and Zoning Department.
The department's assistant director since November, Clay came to Lansing from Durango, Colo., where he worked as a planner for La Plata County.
He said the skiing's not as good here but he enjoys being closer to family and Kansas City.
Living in Colorado for over 12 years, Clay grew accustomed to camping, bagging fourteeners (a mountain that exceeds 14,000 feet) and even working on a search and rescue team, where he was called on to aid with rescue missions for lost hikers and hunters.
"They'd get out there and not anticipate a snowstorm, or they'd just get lost," Clay said.
The search and rescue team would figure out where a person started, form a grid and using topography maps would break up into groups of two to begin a search.
He noted several success stories where people were rescued but also mentioned finding a man who, after being lost for two days, had succumbed to hypothermia in a streambed.
"That was horrible," he said.
"The main thing," he added, as advice for someone stranded on a mountain, "is to stay put, so they won't be wandering around and we're trying to find a moving object."
Part of Clay's job now is to assist residents in navigating Leavenworth's zoning regulations, a task that, to some, may sound equally as treacherous as a Colorado blizzard.
He said he enjoys being able to guide residents through the process on a personal basis.
"It's really important for me to try to help them through the process because a lot of them don't understand it," Clay said. "When you're dealing with someone's property rights, it's very important to them."
In his short time working with the planning and zoning staff, Clay said his initial impression has been very good.
"There's been departments I've worked where each file is just a number," he added. "Here, we really get to know each person's name with the project."
NAME: Steve Clay
ADDRESS: Lansing
OCCUPATION: Assistant director, planning and zoning
FAMILY: Two dogs Aries and Sage
HOW LONG HAVE YOU LIVED IN LANSING, AND WHAT BROUGHT YOU HERE? "Three months : to be closer to family and to live in a small town again."
WHAT DO YOU LIKE MOST ABOUT LANSING? "I like the way it's planning for anticipated growth."
WHAT DO YOU DO FOR FUN? "Motorcycle riding, and I do a lot of outdoor hiking, camping, and I like to visit historical sites : skiing if I can."
WHAT MIGHT SURPRISE PEOPLE ABOUT YOU? "That I've climbed over five fourteeners."
WHAT IS THE BEST ADVICE YOU HAVE EVER RECEIVED? "From my dad 'Give everybody the benefit of the doubt at least once unless they take advantage of you.'"
WHAT CLUBS OR ORGANIZATIONS DO YOU BELONG TO? American Diabetes Association, American Planning Association, American Society of Landscape Architects, Sons of the American Legion.