Restaurant offers live music, cheap drinks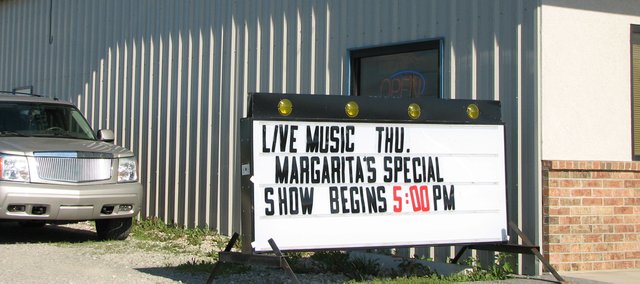 Live music mixed with cheap margaritas is bringing a larger Thursday night crowd to Los Portales.
The Mexican restaurant that opened last summer at 15306 Briar Road first tried the combination for its Cinco de Mayo celebration and has been offering it to a steadily growing group ever since.
"We have had a very good response from the community," owner Eric Caballero said. "We're just trying to do something a little different around town so people can enjoy music with dinner."
A different band or single performer starts the show at 5 p.m. each Thursday and continues until 8 p.m. Dustin Sharp, the lead singer of a local band called County Road 5 that has enjoyed a large amount of regional success, is in charge of the musical line up.
A 1999 Basehor-Linwood High School graduate, Sharp formed the band for fun with fellow BLHS graduate David Zugelder several years ago and they now tour all around the Midwest with fellow bandmates Wade Buchanan, Tom Winborn and Churck Martin.
"Now we're working on our second and third album," Sharp said. "We're also working on another studio album and several music videos as well."
County Road 5 will be performing its sound described as "too country for rock and too rock for country" tonight as Los Portales and several other Thursday nights here and there. Sharp also brings in some of his friends he's met through the business to perform, including the John Joiner Band, who shares a similar sound with County Road 5, Emily Rose, a female country artist, Jeremy Esteb and Nick McCutcheon, who also have a rock mixed with country sound. All of the artists are from the Kansas City metro area.
"I'm trying to keep the hometown thing going," Sharp said.
Between the music and the $2 margaritas, Caballero hopes to bring in a large enough crowd to continue the Thursday night festivities at least through the summer and possibly beyond.
"We decided that it's summertime and this is a way to bring in a few more people," he said. "The food is cheap, the drinks are cheap - we just want people to have a good time."
For more information about Country Road 5 and other artists, visit countyroad5.com. Thursday evening performers will be posted in the Datebook section of the Sentinel on page 2A.