Businesses receive recognition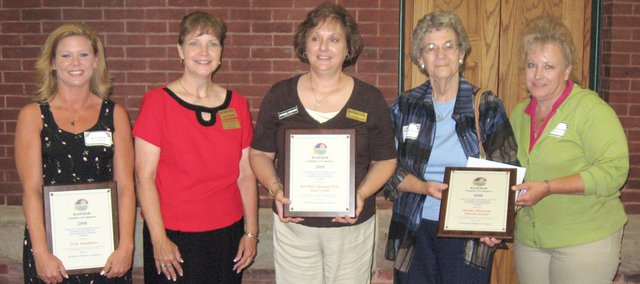 Business and government leaders from across Leavenworth County paid tribute last week to more than a dozen locally owned businesses that have made a difference in the area's economic climate.
As facts flashed across a projection screen hailing Basehor and Tonganoxie as the fifth- and sixth- fastest growing communities in the state of Kansas, respectively, elected officials and members of the Leavenworth County Development Corp.'s executive committee lauded those businesses receiving recognition - and a plaque - Wednesday night at the Riverfront Community Center in Leavenworth.
County Commissioner Clyde Graeber proclaimed the week of June 23 as business appreciation week in Leavenworth County, following suit with similar proclamations from the cities of Basehor, Tonganoxie, Lansing and Leavenworth.
Receiving awards from Basehor Chamber of Commerce president Gayle Runnels were Bob Wiley Memorial VFW Post 11499, Basehor Historical Museum Society and J.E.D. Installation.
"I'd like to thank these three businesses for remodeling in Basehor's downtown," Runnels said.
A special recognition at the Business and Industry Awards Banquet was reserved for this year's Economic Development Volunteer of the Year award recipient, Leavenworth economic development administrator Andrea Adkins.
LCDC executive director Steve Jack commended Adkins "for her great ideas, for her superb execution of those ideas and for her tremendous commitment to her city and county."
Jack noted Adkins' fresh ideas in regard to LCDC's marketing efforts, her commitment in chairing a VIP campaign last year and her involvement with the LCDC strategic plan committee as reasoning for the honor.
"There's some great things happening in our community," Adkins said after accepting the award. " : I could not ask for a better group of people to work with and to be honored by."
Also receiving awards at the banquet were: Richard Smith Accounting and Evans Real Estate Co. from the Tonganoxie Chamber of Commerce; St. John Hospital, Kansas Media One, Bisque It!, Hootin Annie's, MidAmerican Bank and Trust, Tampico Restaurant and the Blue Crab Bistro from Leavenworth Main Street; A Deere Place Preschool, First National Bank, Baan Thai Restaurant and 3-B's CDS Development from the Leavenworth-Lansing Area Chamber of Commerce; and Corrections Corporation of America Leavenworth Detention Center and Hallmark Cards Inc. from LCDC.