Kansan's truck gets 'tricked out' for
TV

show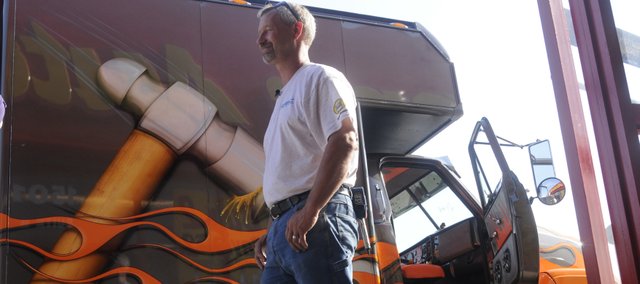 An Oskaloosa, Kan., man got a makeover - on his tractor-trailer.
Dave Tenpenny, an automotive teacher at Oskaloosa High School, was chosen to be on "Trick My Truck," a show on Country Music Television that specializes in accessorizing semitrailers.
But he had nothing to do with getting on the show.
"It's the young people that got it involved," Tenpenny said of his students. "They were sneaky. They wanted to do something as seniors and saw the tools to do it with, and that's what this has been all about."
During his first meeting with producers in Joplin, Mo., Tenpenny learned more than 300 applications were submitted each day to be on the show. "We're very, very fortunate about being chosen," he said.
His 1985 GMC Brigadier is now home to a 42-inch plasma screen television set, a video game system, a computer system and a 1,000-watt stereo.
The once-black exterior is now orange and gray, with an image of a hammer hitting a nail, and, of course, flames.
"You can't go wrong with flames," Tenpenny said.
Plus, truckers love the "hammer down" icon on the side of the trucks. "It's CB lingo, and 'hammer down' means put the gas to the floor and don't let up," he said.
The truck originally was purchased to take students on summer tours to meet professionals in the automotive industry. Only his advanced students get to go, but all of his students think he deserved the honor.
"He's a real good teacher," said 19-year-old Jon Link, who will be a senior in Tenpenny's advanced class next year in Oskaloosa.
Link said Tenpenny focused on hands-on work and the classes used the truck a lot. He also is coming up with ideas for the truck, including improving lighting and trying to figure out how to fit more people in the cab.
Tenpenny also taught at Lawrence High School where Charley Davis, 24, had him as a teacher.
"He inspired kids to work on cars," he said. "It was long-awaited for something good to happen to him."
Tenpenny didn't have much say on what happened to his truck, but he did make one request. He wanted the names of two former students embroidered on the front seats. A student he had at LHS, Jason Aldrich, and a student he had at Oskaloosa, Josh Cady, both passed away during their high school years.
"I wanted those boys to always be in my memory," Tenpenny said. "I wanted to make sure that they rode with us everywhere we went because they would've if they had the chance."
Overall, Tenpenny likes the new tricked-out truck, especially the exterior. But filming a TV show is not something he's ready to do again.
"They want you excited all the time," he said. "The only time it's unrehearsed is probably the first three or four steps in when I see the truck."
The show premiered Saturday, June 26, on CMT and will continue to run this week.