KCK

looks to transportation's future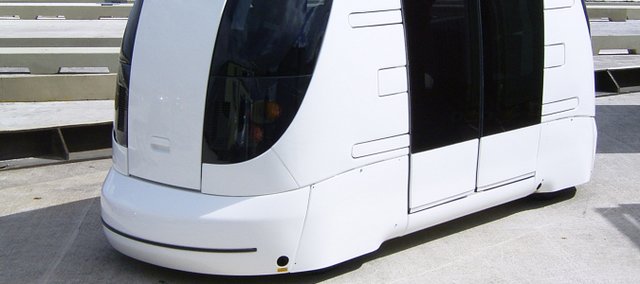 A theoretical exercise that envisions a futuristic transit system for Western Wyandotte County kicked off Thursday.
The exploratory project will study the viability and effectiveness of an automated small-vehicle transportation system, which one person described as a "horizontal elevator." It would carry passengers to different destination attractions in the area - including the Legends at Village West and the coming Schlitterbahn Vacation Village.
Stakeholders attended a meeting on the idea at the Speedway Conference Center in Kansas City, Kan.
The project is supported mainly by funding from the Kansas Department of Transportation and also from Kansas University.
Representatives of KDOT, the Unified Government of Wyandotte County and Kansas City, Kan., Kansas State University, Kansas University, the Legends at Village West, Kansas Speedway, the Federal Transit Administration, the Kansas Department of Aging and the Mid-America Regional Council attended the meeting.
Stan Young, a transportation studies professor at the University of Maryland, said the transit system concept has been described as a "horizontal elevator."
Helming most of the presentation was Peter Muller, president of PRT consulting, which specializes in helping develop personal rapid transit systems, a concept based on what are essentially automated minivans that run on their own dedicated tracks.
The PRT system discussed at the meeting would be similar to the one set to begin operating at London's Heathrow Airport next year, in which pod-like vehicles that hold up to six people cruise on their own track, which has edges that rise above the vehicle wheels.
Passengers select their destination from an electronic menu screen in the vehicle and after pushing a button to signal they're ready, the vehicle pulls out from the small station - which has its own track off to the side of the main guideway - and takes them there. Maximum speed would be about 30 miles per hour and the system is ADA-compliant, Muller said.
The cost to build such a system is about $20 million per mile, Muller said, and if the discussion of building one in western Wyandotte County were to go beyond the theoretical, funding its construction would certainly be the first and most substantial hurdle to clear, as one participant in the discussion mentioned.
Muller said the common rationale for opposing such systems - that they're not viable - is disproved by the PRT system at the University of West Virginia, in Morgantown, W. Va.
The Morgantown Personal Rapid Transit System has been in operation continuously since 1975, and even uses some of the same original vehicles, Muller said.
Perhaps most impressively, the system has had more than 140 million injury-free passenger miles, Muller said, with a 99 percent reliability rate.
The PRT vehicles at Heathrow are powered by batteries and will park at stations and in maintenance garages on charging plates, Muller said, and keeping the vehicles charged is not nearly the problem that people might assume. That's because, he said, the system is designed for "the peak of peak use," which would comprise perhaps 20 minutes of each day. Outside that time, the vehicles would spend several minutes at a time charging, he said.
As for other obstacles in bringing such a system to the area, Chuck Oglesby, assistant vice president of RED Development Corp., which owns the Legends shopping center, said the "Kansas City and Midwest mentality for the usage and tendency to love cars."
The success of a PRT system in western Wyandotte County would require a "philosophical change," Oglesby said. "I don't know how viable that is, Kansas City residents parking and using this."
Oglesby said in addition to that, "we're more in and out," referring to the tendency to go somewhere for one single purpose and then leave, instead of, for example, going for dinner at one restaurant, then seeing a movie at a nearby cinema, then shopping afterward at stores in walking distance.
Oglesby said a study was forthcoming by the Village West Site Board that would look at just how common that kind of consumer behavior is.
A big advantage of the PRT system would be the space that could be freed up for future development because less space could be devoted to parking, Muller said.
For that reason, Oglesby said, "this appears to be the greatest return on an investment for land value use."
Another participant, Blanche Parks, senior manager of the Kansas Department for Aging, praised the concept.
Parks said a PRT system seemed a good fit for senior citizens, for whom practicality is a central issue. Seniors ask "how convenient is it to get into and out of" a place with any transit system, she said, and the system envisioned - even if only as an exercise - in Thursday's meeting looked to answer those questions satisfactorily.
"The concept sounds neat and exciting," Parks said.
The next steps in the project will be a literature review of other automated small-vehicle transportation systems and data collection.