Library patrons work out with yoga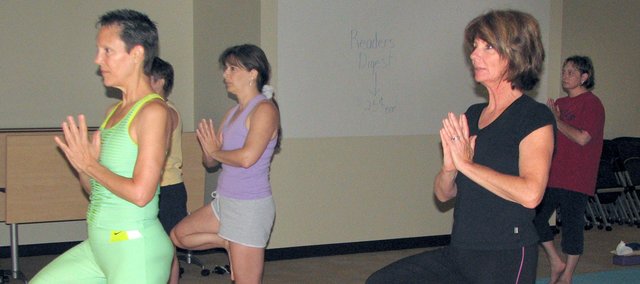 Stretching, breathing, posing and releasing tension is how Melody Miller teaches her students to relax in a hectic world through yoga.
The hour and a half long Monday morning class is one of two exercise classes the Basehor Community Library is able to bring to patrons because of its newly expanded facility.
"To me, life just seems so chaotic," Miller said. "Yoga is just a great way to get focused, get grounded and open up."
Miller began to explore yoga in the 1970s, then later decided to try her hand at teaching. Now with about six years of teaching under her belt, she's an instructor for not only the class at the library, but also a few at Lifetime Fitness and in her home studio.
Having used yoga to bring balance to her own life, Miller knows that the benefits of the practice are endless, she said. The sequence of poses not only strengthens the body physically, but mentally as well. She said yoga is the union of the mind, body and spirit and it's accessible for everyone through modifications.
"Modifications are a good thing," she said. "Modifications allow us to do this for the rest of our lives."
Any injuries a student might have are documented before class begins to give Miller a heads up on who might need to modify their poses in order to continue to reap the benefits of the exercise without irritating their injury. The modifications also allow students to work their way up making the class universal to men and women, young and old and beginners to more advanced students.
"It builds muscle tone and they'll build strength and flexibility," she said. "On top of that, they'll get a deeper awareness of their own body."
While yoga continues to gain more students, perhaps an even more popular class is Thursday evening PiYo.
The class, which combines pilates and yoga along with flexibility and balance, is described as a more fluid upbeat type of class rather than relaxed and meditative.
Certified instructor Cindy Grover teaches the class, which is designed to challenge beginners through advanced students.
"It's a very active flowing class," Grover said. "We do focus on breath with each movement, so all of that is similar to yoga, but it's more up tempo."
It's not considered a cardio class, Grover said, but the repetition and increasing speed of the movements bring heart rates up to tone muscles, improve posture and reduce stress.
"It's a very lighthearted, fun class," she said. "Each person feels that after a few classes it gets easier to follow."
Both classes offer six-week sessions throughout the summer. To check space availability and prices or to register, call the library at (913) 724-2828 or go online at basehorlibrary.org