Debra "Deb" Snider candidate questionnaire responses
Editor's note: The following are responses to a questionnaire mailed to candidates in the upcoming Aug. 5 primary election. Look for more candidate profiles and full responses to the questions leading up to the primary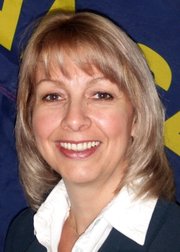 Name: Deb Snider
Place of residence: Lansing
Birthdate: Nov. 24, 1954
Family: Married for 35 years with two sons ages 30 and 29.
Religion: Christian
Education: B.A. and J.D. from Kansas University
Occupation: Trial attorney, Snider Law Office in Leavenworth
Political and government experience: "None. I am not a politician."
Why are you running for county attorney? "I believe that good, old-fashioned hard work, combined with leadership and integrity, can make the county attorney's office more effective in prosecuting criminals and protecting our families and businesses. Crime statistics in Leavenworth County are rising at an unacceptable rate. Until criminals realize that we mean business and that we will prosecute them to the fullest extent, our crime statistics will continue to rise. As a citizen, I am greatly concerned about this. As a trial lawyer, I am aware of deficiencies in the county attorney's office. I believe that with the proper leadership and a structured plan of action, these problems can be reduced and hopefully eliminated."
What would your top priority for Leavenworth County be if elected? "My top priority is to reduce crime rates in our county by a two-fold process: (1) to institute a tracking system whereby cases are charged and prosecuted in the most prompt manner possible and (2) that, through improved communication with law enforcement, our prosecutions can be more effective. This two-fold approach will not only improve prosecution rates but will reduce the waste of taxpayer money."
What steps would you take to more effectively combat Leavenworth County's crime rate and put criminals behind bars? "We need to be more aggressive in our prosecution of criminals, especially repeat offenders. Too often, repeat offenders receive plea agreements that significantly reduce their charges and sentences to a point where the punishment is minimal compared to the crime committed. By carefully regulating plea agreements, I believe that criminals will realize that the Leavenworth County Attorney's office is serious about prosecuting offenders at all levels. Prompt and aggressive prosecution, coupled with prudent plea agreements for lesser offenses, should act as a deterrent to the increasing crime levels in our county."
As county attorney, you would not only be Leavenworth's lead prosecutor. You would head the attorney's office staff and would constantly interact with judges, elected officials, law enforcement and other attorneys. What kind of leadership, administrative and interpersonal skills do you possess? "Obviously as a trial lawyer, I already have significant and positive interaction with judges, law enforcement and other attorneys. Based on many discussions prior to my candidacy, I believe that I am held in high esteem by both judges and my peers and I have frequently represented law enforcement families when the need would arise, which certainly shows a positive relationship with them as well. The support staff at the county attorney's office has always been very kind and helpful during my interactions with them, and I believe that is based on mutual respect and courtesy. I believe that my excellent interpersonal skills are one of the main reasons that I am successful both inside the courtroom and out. My leadership abilities are numerous, as I have been in many organizations - both civic and military - where I have won a number of awards for leadership and service. I have held elected offices in many organizations, as well as having been chairman or project coordinator many times over. I am currently co-chairing a bone marrow donor registry drive through the Leavenworth Rotary Club so that life-saving donors can be matched with victims of leukemia and other blood cancers. My administrative skills include being an office manager for several professional firms (prior to obtaining my law degree from KU in 1999 after raising our sons). Two of those firms had significant budgets including a multi-million dollar construction company and an international trade law firm, both in Washington, D.C. So, I am very comfortable in the role of administrator, being responsible for large budgets, managing personnel and the administration of a business. For a more in-depth information and photos on the campaign trail, interested persons can visit my website at www.debsnider.com."
Many people never interact with the criminal justice system until they are the victim of a crime. What will you do as county attorney to ensure that crime victims and the public are kept abreast of cases of interest? "I believe in the importance of communication with law enforcement, with victims of crime, with the public and with the press. It is crucial that all sectors be informed about the occurrence of crimes, the status of charging and prosecutions and the outcomes of high-level cases. While many county attorneys have a spokesperson, I believe that, as a public servant who has been elected to act on behalf of the people of the county, it is my responsibility to address these important issues personally. I will try to make statements, when appropriate, regarding the activities on cases of major importance to the community."
What is your view on negotiating pleas with criminal defendants? "Plea negotiations are an integral part of the criminal justice system and cannot be arbitrarily discontinued. If there were no plea agreements, the courts would quickly become gridlocked and overburdened with every case going to trial. The courts would become so backlogged that it could take many years for the simplest case to come to trial. This would be a tremendous burden for victims of crime waiting for resolution, as well as witnesses to those crimes having to wait for years to testify. In the meantime, memories fade, witnesses move away from the area or even die before being able to testify for the prosecution. As a result, prosecution effectiveness would decrease significantly because the older a case becomes, the harder it is to effectively prosecute. When prosecution effectiveness decreases, taxpayer dollars are wasted and the case is less likely to be successful. So, overall, while plea agreements can be controversial and are generally unpopular, they do serve a purpose. The important aspect to plea agreements is to carefully regulate their use and scope. That is where the experience and sensibility of the county attorney are so vitally important. A prosecutor has to use good judgment in determining how and when to negotiate plea agreements and when not to. I personally believe that there should be no reduction in charges or sentencing for child molesters. Those offenders should receive the maximum punishment possible and those types of cases do not lend themselves to plea agreements in my opinion.
What differentiates you from the other candidates filing for this office? "I believe that I am unique because I am a mixture of common sense and knowledge, an aggressive prosecutor who knows when to fight the hard battles but sensible enough to be compassionate when circumstances warrant. I am a middle-aged Christian woman with an abundance of life experience, leadership and management experience and very solid courtroom experience. As a trial lawyer, I can quickly assess a case to know both its strengths and weaknesses and to structure my courtroom arguments accordingly. I am not afraid of going to trial, and I do it frequently. As a manager, I can work with all types of people to accomplish a goal, and I know how to positively motivate workers to function as an effective team. As a person, I believe that I should try to do my best no matter how difficult or unpopular the job may be. I believe my work ethic is above reproach. As a 'politician' I can make only one promise: if I am elected, I will try my best - everyday - to do a good job for the people of Leavenworth County."