John Flower candidate questionnaire responses
Editor's note: The following are responses to a questionnaire mailed to candidates in the upcoming Aug. 5 primary election. Look for more candidate profiles and full responses to the questions leading up to the primary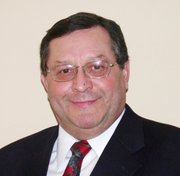 Name: John Flower
Place of residence: Southern Leavenworth County
Birthdate: Sept. 8, 1946
Family: Diana, wife; Jason, son; Alexia, daughter
Religion: United Methodist
Education: B.S. in business administration from Rockhurst College, numerous post-graduate business and management courses
Occupation: Retired from AT&T Inc.
Political and government experience: Chairman, Basehor Planning Commission (two years); past chairman, Leavenworth County Sheriff's Civil Service Board (two years); president, Cedar Lakes Estates Homes Assoc. (five years); member, Kansas State Library Board
Clubs or organizations: Basehor United Methodist Church Trustees, Basehor Community Library Board, Kansas Library Trustee Assoc., Basehor and Leavenworth County Comprehensive Plan committees and U.S. Highway 24/40 Corridor Study
Why are you running for the commission seat? "I believe my background, experience and education singularly qualifies me to help southern Leavenworth County meet the challenges we'll face in the next four years and beyond. We need a full-time commissioner for District 3; I will be that individual. I feel a strong commitment to make our district a good place to live and work. I will work hard for the citizens of District 3 to improve our quality of life and enhance our tax base through intelligent growth. I want the opportunity to serve the citizens of all of District 3."
What is your top priority for Leavenworth County? "Leavenworth County is going through a time of change; this transition is altering all our lives. My top priority is to ensure we control taxes and manage our growth while honoring our rural way of life. This has to be done through intelligently growing our tax base. This requires we have planned, long-term growth which provides maximum protection to our rural heritage. We must move from depending mostly on real estate taxes for our services. This will require us to look for new business in Leavenworth County. They will assist us in lessening the tax burden on real estate while helping in the provision of services. We must do this in a manner which minimizes the impact to our environment and our community as a whole."
The current county commission has committed special sales tax revenue to several capital improvement projects, including the County Road 1 interchange project in southern Leavenworth and a countywide communications upgrade. How would you like to see these projects handled if elected? "The immediate answer is with due care to ensure the citizens of Leavenworth County get full value for their dollar. It's important we do this in everything we do as servants of the taxpayers, whether it is their money, trust or confidence. We need to ensure we are diligent in how we progress to make the most of this investment. We must take care to listen to the wishes of the citizens and determine what is best for the whole. To do less would be a betrayal of the confidence they have placed in us as their elected representatives. It's important for us to be diligent with taxpayers' money and ensure it is spent effectively on the projects, giving maximum value for dollars expended."
For the past five budget cycles, commissioners have reduced the county's mill levy - of the percentage of assessed value that county property owners pay in property tax each year. What efforts would you make to hold the line on or decrease property taxes, if any? "I will make every effort to continue to control taxes for our citizens. The work the commissioners have done to reduce the debt on the citizens of Leavenworth County is admirable. However, we don't want to reduce taxes to the point we can't provide the services our citizens want and deserve. A way to ensure continued services and improvements is to find other sources to assist in paying for services for all. This can be accomplished by what I call intelligent growth. This means we plan where growth will take place, where it makes sense to the community and where we have the facilities to provide service, without additional burden on our current resources. It also means we stop or slow urban sprawl."
Leavenworth County is experiencing a time of residential and commercial growth. What steps might you take to manage that growth? "I believe the county's new comprehensive plan is an excellent step forward for the county in designating land use. The new plan is a professional, well-thought-out approach to how we should maintain and develop Leavenworth County. Leavenworth County is blessed with a warm, comfortable rural environment which gives us our character. However, growth is upon us and we must make sure we insist any new developments be of high standards and appropriate for the surrounding area. Most important, we need to plan ahead on what type of development we want and not be afraid to say no when it's not in the best interests of the citizens as a whole. Consequently, the steps are: Plan, think, insist and honor our character."
As a county commissioner, you would assume authority over more than 400 county employees - including a newly hired county administrator - and would constantly interact with them, other municipalities' elected officials and members of the public. What kind of leadership, administrative and interpersonal skills do you possess? How would you work with the administrator and county department heads to make decisions and develop/implement policy? "It has been my practice when interacting with individuals, whether they are employees, co-workers or fellow citizens, to be honest and fair. My background is in the management of business. I have managed large groups of people and in many cases theses individuals were located throughout the U.S. In order to develop excellent employees you must provide them goals, give them the responsibility to achieve those goals as well as the authority. Let them have the chance to excel but hold them accountable for success. However, one must take appropriate action if objectives are not achieved. We must be prepared to terminate individuals who are better off with other employers who have jobs more suited to their talents. The department heads and the county administrator are professionals who are responsible for specific areas of expertise. I have always been known as an individual who loves people and gets along well with others. I truly enjoy problem solving with others to improve any situation. I expect my talents in dealing with people will assist me in gaining the confidence of my coworkers and staff. I look forward to the sharing of ideas to improve the quality of life and services Leavenworth County provides its citizens."
Are you in favor of locating a combined regional airport and industrial complex in Leavenworth County? Why or why not? "The county commissioners have recently requested information from consulting firms as to their qualifications to conduct a financial feasibility analysis of a regional airport in Leavenworth County. Based on the outcome of the study, we'll have a much better idea if it is a good investment or not. If it proves to be economically feasible, I would request the commission evaluate the opportunity/expenditure in relationship to all priorities for the county, placing the opportunity properly along with other projects. The other issues, which would have to be resolved are location and how we'll fund such an undertaking."
What differentiates you from the other candidates filing for this office? "I believe my background, experience and education uniquely qualifies me to be the next 3rd District County Commissioner. I want the opportunity to serve all of southern Leavenworth County on a full-time basis. I am dedicated to making our county an even better place to live and work. My background has given me experience in every aspect of being a county commissioner. I know how to manage employees, build budgets and meet those budgets. I will work hard every day to improve Leavenworth County for every citizen. Plus, I listen well to all parties. I want the citizens of southern Leavenworth County to be able to say voting John Flower as their county commissioner was the best thing they could have done."