Area churches to merge, move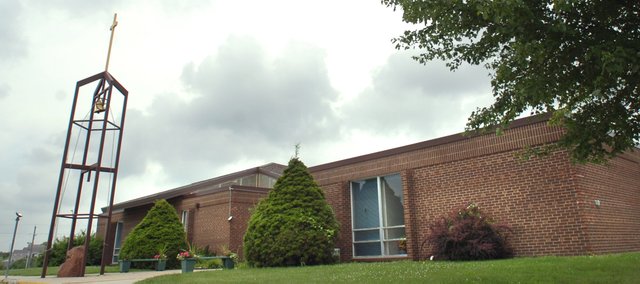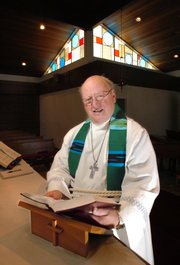 A Bonner Springs institution will be closing Sunday after 40 years.
The 9 a.m. Sunday service at Emmaus Lutheran Church, 12900 Kansas Ave., will be its final worship service.
Emmaus will combine with an even older church, St. Martin Lutheran Church, 14308 Fairmont Rd., Basehor, which just celebrated its 100th anniversary. Services will be at St. Martin until a new building can be constructed. The Rev. Gaylen Burow, who has served as pastor of Emmaus for the last 20 years, said a site has yet to be chosen, but it will be somewhere between the Bonner church and St. Martin.
The new church will be called Risen Savior Lutheran Church and will have as its pastor the Rev. Robert Weinkauf, who now serves as pastor of St. Martin.
Burow said the reason for the big change was, "we received an offer on our property, which is very advantageous."
The Emmaus property, at the corner of Kansas Highway 7 and Kansas Avenue, will be part of the Bonner Pointe retail and restaurant area, the rezoning for which comes before the Bonner Springs City Council at its 7 p.m. June 14 meeting.
Burow will enter into semiretirement, keeping busy helping the church make the transition.
The decision to sell and then combine with another church wasn't an easy one for the congregation, however, Burow said. On the first offer for the church property three or four years ago, "the first vote the congregation took, 94 percent felt it was a good move," Burow said. That offer fell through, as did the next five.
"It's been hard on all of us, kind of a roller coaster," Burow said. "After a while the old place starts to look pretty good."
But then the church received "an offer that seems very solid, from a buyer who seems in a position to see it through," Burow said.
The congregation is composed of 65 families, many of which joined in the last 20 years, Burow said. Unfortunately, merging with the Basehor church could mean losing some of them, he said, because already "we have a lot of people drive a good distance for worship," and the Basehor church is 9 miles further up the highway.
The final service at Emmaus will be followed by a 40th anniversary celebration with a noon barbecue at Hollis Renewal Center,11414 Kansas Ave., and conclude with a 2 p.m. concert by Christian folk musician Bob Jenkins.
More like this story