Lincoln the Frontiersman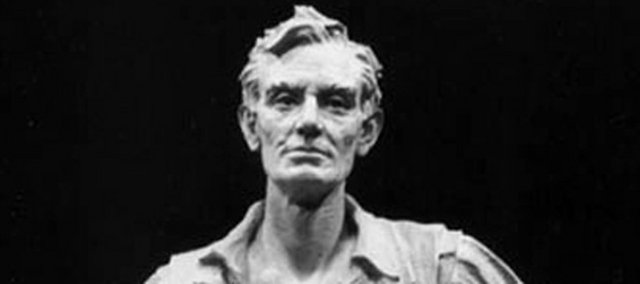 I have been working on a half-size clay model of Abraham Lincoln in my studio and have had a constant search of pictures of Abe to study.
I ran across a wonderful sculpture of young Abe Lincoln, The Frontiersman, on the island of Oahu in front of EWA Public School.
The principal of this school was Katherine Burke, who was born in Leavenworth, 11 days before Abraham Lincoln's inauguration, and devoted her life to teaching and working with children and young adults. Her work brought her to Hawaii. Being devoted to Lincoln, Burke wanted her students to learn about him. It was her dream to have a sculpture in front of the school. However she died before this could happen. Her will was devoted to this purpose but unfortunately there was not enough money. She died in 1938 at the age of 76.
In 1944, 135 years after Lincoln's birth, there was an unveiling of this wonderful sculpture. Knowing Burke's wishes, someone had a sculpture made by an artist by the name of Avard Fairbanks to be installed in front of the school. Former pupils and friends gathered for this special occasion, and the Honorable Ingram M. Stainback, governor of Hawaii, delivered the unveiling address.
The governor said, "I believe that Mrs. Burke has shown wisdom and understanding in presenting to this school the statue of Abraham Lincoln as a young man. She had hoped that this statue would serve as a reminder to the children of so many ancestries, Americans all, who work and play and learn together, would serve to remind them of the miracle that character, courage and work can accomplish."
This got me interested in the sculptor. Avard Fairbanks was born March 2, 1897, in Provo, Utah, and at the age of 12 he entered a clay rabbit in the State Fair that won him first place. However when the judge found out Fairbanks' age, he was denied the prize. This made him more determined and decided he would keep doing better sculptures just to show the judge how wrong he was. Fairbanks had a wonderful career and produced more than 100 large public sculptures. He also designed the Dodge Ram and the Plymouth Flying Lady hood ornaments for Walter Chrysler himself. They were so popular in the 1930s that many were stolen and had to be replaced. These ornaments are now collector's items.