Search is on for 90-year-old Shawnee resident
Whereabouts may include Leavenworth County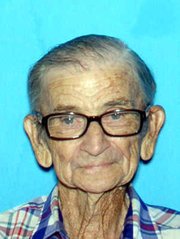 Shawnee — Police are trying to locate a 90-year-old Shawnee man who has been missing since Sunday and who may be in Leavenworth County.
Warren Wagner left his residence in his Silver 2007 Chevy Colbalt 2-door (Kansas license tag QME 063) to run some errands. When Wagner's daughter noticed he was not home by 10 p.m., she called the police and filed a missing persons report.
At 5 a.m. Monday, Wagner was in western Atchison County, where he had contact with a sheriff's deputy and was given directions home. But he has not been seen since.
Police having been searching the area for Wagner and are asking for the public's assistance to locate him.
He is familiar with Leavenworth and Lansing.
Any information on Wagner's whereabouts should be reported to the Shawnee Police Department at (913) 631-2150.