Schloegel wins third
SM

Triathlon title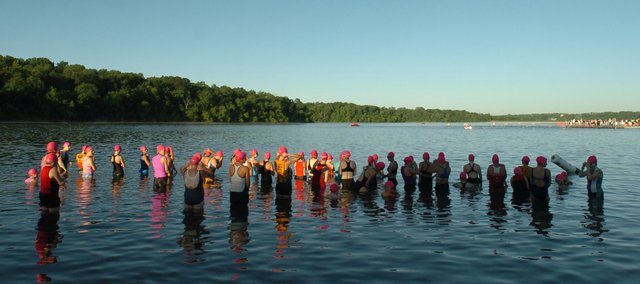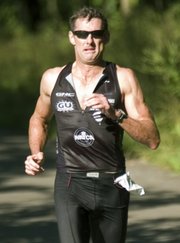 A cool Saturday evening gave way to a perfect morning for racing Sunday, and the participants of the Shawnee Mission Triathlon responded with some of the most competitive racing in the event's history.
In the end, it was some familiar, local names that grabbed the final glory.
Leawood's Bob Schloegel, who finished second to his cousin Ben in the 2007 Shawnee Mission Triathlon, earned the top spot in the men's division this year with a time of 1:33.03 on the 1,000-meter swim, 18-mile bike, and 4.5-mile run course. Schloegel narrowly defeated Tim Mezger of Prairie Village, whose 1:33:09 was just six seconds off Schloegel's pace. The win was the third Shawnee Mission Triathlon title for Schloegel, who is 44 years old.
On the women's side, 38-year old Julie Barr of Papillion, Neb., narrowly edged out Andrea Robertson, 31, of O'Fallon, Mo., by a mere four seconds.
Nationally-ranked Ironman triathlete Tim DeBoom lent his competitive skills to the competition by competing for Team DeBoom in the running section of the team race. Though Team DeBoom's entry was primarily for exhibition, they still posted the best long-course time of the day by nearly seven minutes.
According to race organizer Chad Tower, the 2008 Shawnee Mission Triathlon ranks among the best in the competition's history.
"It was a beautiful day for July 13th in Kansas," said Tower, referring to the benign starting temperature and humidity at the race's 7 a.m. start time. "I don't think the athletes could have asked for much more. The water temperature was just great and the park looked awesome. We had some very good competition. It was a great day."
By Tower's estimation, approximately 75 percent of the athletes involved in Sunday's race came from the greater Kansas City metro area. However, word of mouth of just how well-regarded Shawnee Mission's Triathlon has become is evident by looking at the hometowns of the participants.
"Most of our athletes come from the five-county area," Tower said, "but we also had people from Illinois, Texas, California, Oklahoma, Arkansas and Delaware. I was talking to one gentleman from Illinois who said he signed up for our race because (he) had just heard that this was a great event."
While Tower knows that Mother Nature plays a huge role in determining whether or not a triathlon event is successful, he was also grateful that the presence of triathlon superstars like DeBoom and his wife, Nicole, helped make a beautiful day a near-perfect one.
"I've been around this for at least the last six years," Tower said, "and a lot of it (the success) depends on the day, but with the presence of the DeBooms, they inspired a lot of people to keep on training. It was, by far, one of the best experiences I've been associated with."