Drum class teaches world music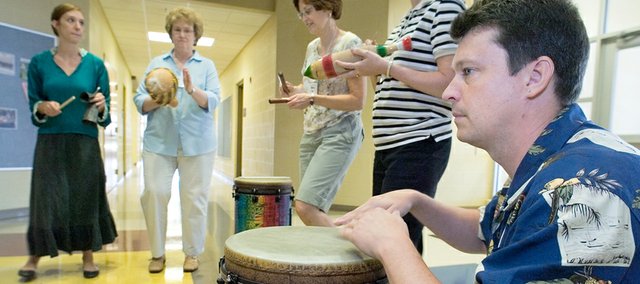 Delaware Ridge Elementary School sounded like a polyglot musical party this week.
In the school's music room 48 students sitting in a semicircle learned how to play traditional songs of Ghana on the tubano, a tall, skin-covered drum, and other instruments. Their instructor, leading the drumming and singing, was Sowah Mensah, a master drummer from Ghana who teaches at Macalester College in St. Paul, Minn.
The World Music Drumming program is part of the University of Wisconsin-Milwaukee. Will Schmid, director of the program, said participants in the workshops include, in addition to music teachers, school counselors and psychologists.
Alicia Clair is a music professor at Kansas University and is part of a team selected to design a transitional rehabilitation program using music therapy for the Veterans Administration.
"I want to use it (drumming) to train behaviors absent because of injuries," Clair said, including attention disorders, impulse control, social interaction skills and nonverbal communications.
Many veterans returning from the war have been affected cognitively, Clair said.
Drumming could help those veterans, she said, because "it's so inviting and so enticing, it will capture the interest when something else will not."
Rhythm and percussion, in particular, are effective, she said, because "it doesn't preclude people who don't read," and overcomes problems with focusing their attention.
Schmid agreed.
"Teachers complain a lot about this kind of thing.," he said. Learning to drum world music "forces people to really listen and watch."
The trick, Clair said, is to transfer those skills, in the case of children, to other areas such as math and reading, and for injured veterans, to learn skills involving social interaction.
"Some school districts have seen this as the new wave of music instruction," Schmid said. "It's a way of hitting the students not included (in band) : It casts a wider net."
Rachel Williams, music teacher at Delaware Ridge, is responsible for bringing the workshops to the school. She took the level 1 course last year in Leesburg, Va., and is taking the level 2 course this week. Williams has already incorporated lessons from the level 1 course into the classes she teaches, she said.
"I think the thing that is the most important is language competence," Williams said. "Music is a universal language," which means ESL students are at no disadvantage on the exotic instruments, of which the district has funded the purchase of some.
"I've been fortunate that Bonner Springs (school district) has been very generous," she said.
The music instructors at the district's other elementary schools, Penny Byerly, from Bonner Springs Elementary, and Miranda Filbeck, Edwardsville Elementary, also took part in the workshops.
Byerly took the level 1 class last year and took a moment from a group dance lesson in the school gymnasium to speak to the Chieftain.
"It's wonderful," she said. "I'm learning new parts."
Byerly said she's also worked into her lessons what she learned last summer.
"Kids love it," Byerly said. "Everyone enjoys drums and being part of an ensemble."
The world music drumming "seems to involve more kids and they get more excited about it," she said.
That's because, she said, it involves "total movement - they see it all come together.
Even the youngest classes, which for Byerly include kindergartners, can be taught to drum.
"They learn how to sit with the drums," Byerly said. "They learn respect, so they're not pounding or hitting."
David Circle, former music supervisor for Blue Springs School District, praised the workshops.
"We had two or three (teachers) last year come back so excited. We had one do an in-service for the rest," he said. "Now we're buying 11 complete sets of drums."