BSSC

wins league title
Dolphins hold off Lake Forest, cap undefeated season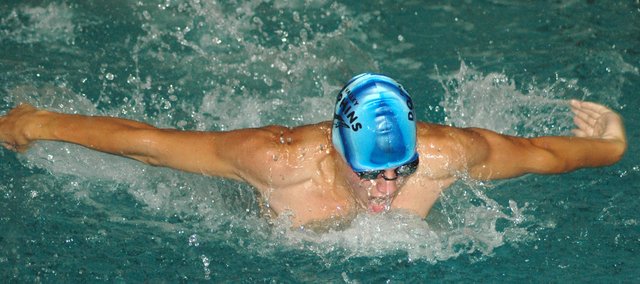 Kansas City, Kan. — Like ultra-competitive siblings, the Bonner Springs and Lake Forest swimming teams have had a spirited, friendly rivalry during recent years.
Some of the swimmers are teammates outside of the summer swim season. Many attend the same schools. Located within the same city and with practice facilities located mere minutes apart, both programs are nearly equals in talent level. Both also love to win.
After years of chasing the ripples of Lake Quivira, both squads surpassed the longtime Lake and Country Club Swimming League powerhouse and became the league's premier programs.
Lake Forest won the 2006 and 2007 league championships, and Bonner Springs - formerly known as the Fun Valley swim team - finished second.
Both asserted themselves as the league's top teams again in 2008, but this time it was Bonner Springs' turn to ascend the throne. The Dolphins piled up 903 points, fighting off a ferocious challenge from the Sharks, who finished with 853. Lake Quivira was a distant third with 732.
The championship capped a year in which the BSSC went undefeated throughout the regular season before holding off its rival in a dramatic finish.
"Oh, it's been phenomenal," Dolphins coach Debby King said of the season. "I don't remember ever having a season where we went undefeated and then it came down to the wire where we're going, 'OK, did we actually pull off first or not?'"
Beginning with the preliminary races on July 8 and 9, and continuing through Friday's final races, the ultimate outcome always remained in doubt. The Bonner Springs and Lake Forest swimmers all did their part to make sure the drama was high. From the youngest swimmers to the most seasoned veterans, fast times were turned in and all swimmers did their part to keep their teams in the running for the league title.
Both teams stocked the final races in almost every age group of every event. Take the 14-and-under girls backstroke, for example. The top five finishers all hailed from Bonner Springs and Lake Forest.
"There's a lot of rivalry, and it's really fun to have people that we can go against," Bonner Springs swimmer Shyann Winkler said. "And we don't have anything against them. I love the people; it's just fun swimming against them."
Just like they did all season, the Dolphins looked to their top performers to deliver. Kurt Weber did just that in the 18-and-under boys division. He turned in first-place finishes in the backstroke, breaststroke, butterfly and individual medley and added a third-place finish in the freestyle. Winkler also added four gold medals as she won the 14-and-under girls titles in the freestyle, butterfly, backstroke and individual medley.
Winkler's lone non-victory came in the breaststroke when Lake Forest's Lauren Callahan held off Winkler for the closest victory of the meet, winning by five one-hundredths of a second. Callahan touched the wall in 37.73 seconds and Winkler finished in 37.78 in a race that symbolized just how close both teams were throughout the meet.
"It's been very interesting because we all have different strengths," Callahan said of the tough battle between Bonner Springs and Lake Forest. "It's really fun. It's good competition."
Callahan's victory was one of numerous highlights for the Sharks. Colin Martin capped a year in which he was the premier 10-and-under boys swimmer by winning three individual titles, and Emily Herre won four gold medals in the 18-and-under girls division. Toni Stock posted two second- and two third-place finishes in the 14-and-under girls division.
Ultimately, Bonner Springs simply had too much depth and balance. In addition to the wins by Weber and Winkler, Josh King won three titles in the 14-and-under boys division and David Falk won two championships in the 12-and-under boys division. For the girls, Aubrey Torkelson and Kendall Finley finished in the top three in every individual race and helped the medley relay team to a league title. Katrin Holden also won two league titles in the 8-and-under division.
In addition to event winners, performers such as Chase Torkelson (6-and-under boys), Nick Passinese (8-and-under boys), Lee Maughmer (10-and-under boys), Johnny Waggoner (18-and-under boys), Clayton McCully (18-and-under boys), Grace Vogel (8-and-under girls), Ally Hecht (10-and-under girls), Yala Forbes (12-and-under girls), Keiandra Forbes (14-and-under girls), Lei Lei Smith (10-and-under girls) and Monica Sorensen (18-and-under girls) provided crucial team points by placing in the championship finals of multiple events.
Weber praised his teammates for working hard throughout the season and keeping their eyes set on the end-of-season goal.
"It's something that kind of gradually built," he said. "Our coaches worked us pretty hard in practice. We did what they told us to."
The final result was one the Dolphins will remember for years to come.
When the final team scores were announced, the Bonner Springs swimmers leaped into the pool in celebration and performed the Hokey Pokey, their traditional post-meet routine. While that happened, Lake Forest coach Doug Nelson applauded the Dolphins.
"Debby deserves it," he said, a smile gracing his face. "She put her heart and soul into that program. I don't know how she's done it, but I'm happy for her. She and her staff did a great job. It's been a long time coming for them."