New pastor wants to build on 'good stuff already going on'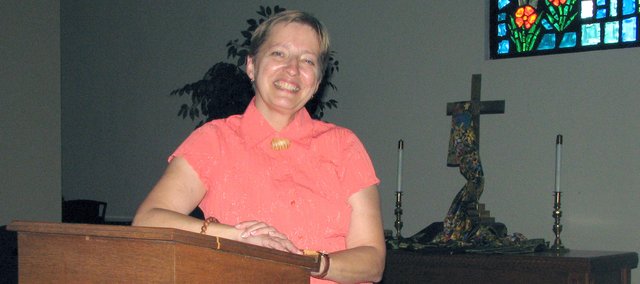 Becoming the new pastor of the Basehor United Methodist Church was like coming home for Claudia Bakely.
A Kansas City, Kan., native, Bakely and her two sons had been living in the Tonganoxie area for 12 years before she decided to trade in her 25-year nursing career and join the seminary.
"My father is a Methodist minister," she said. "I had thought about it for years and there were a lot of different things that were pointing me in that direction. I just felt that call."
She worked as the youth pastor for the Tonganoxie United Methodist Church while attending Saint Paul School of Theology in Kansas City, and after she graduated in 2003 she was appointed to Emporia First United Methodist Church as associate pastor. Spending five years at her first appointment gave her the opportunity to learn and implement a few programs.
"I started a contemporary worship service there," she said. "My programs were mission-oriented and congregational care. I had a lot of good experiences. It was a good place to learn."
Just as caring for people and their spiritual needs has carried over from her life as a nurse to her life as a pastor, Bakely said she knows her experience in Emporia will help her as the new pastor of BUMC. With her past mission work, she hopes to help out with and attend the church's annual mission trip and continue the focus on youth ministry, which appeals to the several young families that attend BUMC.
"I love to be with people and around people," she said. "That was the thing about nursing that I loved that carries over into ministry caring about people, enjoying them and loving them. They've got a lot of good stuff going on here already, so it's just a matter of building on that. It's an exciting place to be."
Bakely said she found the congregation to be warm and welcoming during her first service on July 6, and even saw some familiar faces. A previous BUMC pastor, Howard Johnson, who is now the Flint Hills District Superintendent for the Kansas East Conference of the United Methodist Church, was instrumental in appointing her to BUMC - something she appreciated.
"He said, 'that's a great church. You will love it,'" she said about Johnson. "I was thrilled when they brought me back closer to home because I have family in Kansas City. In the church, people are just wonderful. It's a family just like any other family. I'm hoping to be here for a while."