McCain stresses energy policy in Kansas City visit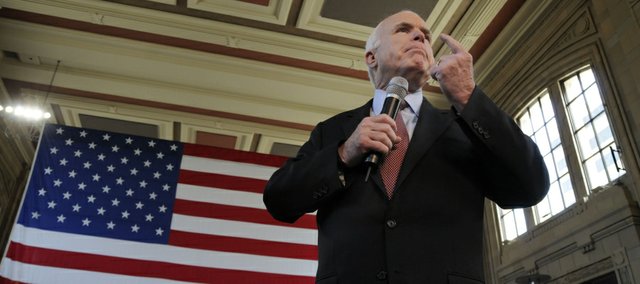 Kansas City, Mo. — The Republican presidential candidate - at times at odds with his own party - showed enthusiasm as he shook hands with the people who swarmed him at Union Station.
Arizona Sen. John McCain had just conducted a town hall meeting Thursday and had shown some feistiness in criticizing one of the favorite campaign themes of his Democratic opponent, Sen. Barack Obama of Illinois.
"What kind of change we are going to have is the right change and not the wrong change," he said in the middle of about 1,000 joyous supporters.
After it was over, the 71-year-old McCain shook hands and took photos with dozens of supporters as the song "Life is a Highway" blared over the loudspeaker.
He had answered questions about high gasoline prices, energy policy, the economy, the war in Iraq and health care for veterans.
"Sen. McCain is probably one of the most approachable candidates that I've seen in very many years," said Deb Hammond, of Parkville, Mo.
The same day that McCain called Missouri a swing state in the race, a Rasmussen poll showed the GOP presidential candidate with a 20-point lead in Kansas over Obama, who has family ties in the state and an endorsement from Gov. Kathleen Sebelius.
Pundits say McCain's foreign policy stances, his experience and his willingness to seek middle ground on issues like campaign finance or climate change make Kansas comfortable territory for the GOP candidate.
"He has that capacity to appeal to more centrist voters," said Joe Aistrup, head of Kansas State University's political science department.
Lawrence Republican Rick Davis, who made the trip to Union Station, said he wasn't concerned that McCain lost the February Kansas caucuses to Mike Huckabee.
The nomination was already decided, and mostly conservative voters turned out, he said. In the next weeks of the race, Davis expects McCain to stress his foreign policy experience and support for the surge strategy in Iraq.
"I'd love to get him to the other side of the state line" for a visit, said Davis, chairman of the Douglas County Young Republicans.
Democrats, though, have said McCain's policies too closely resemble President Bush's time in office, and they're still confident Obama could make some noise in Kansas, where a Democrat hasn't won since Lyndon Johnson in 1964.
McCain might turn people off with his recent comments about privatizing Social Security, said Jenny Davidson, a Kansas Democratic Party spokeswoman.
"They soundly rejected that in 2005, and I'm sure they'll reject that again," Davidson said.
Douglas County has typically been the political anomaly in Kansas; it was the only county John Kerry won in 2004. Obama's campaign also is built on enthusiasm from his February caucus victory.
"It's obviously not a given, but it's something that we think is possible," Davidson said.
Aistrup said McCain might appeal to moderate Republicans and independents in Kansas and would win the state, but he expected Obama to win in Douglas and Wyandotte counties.
Lawrence Republicans acknowledged the challenge here for McCain, but they said he could surprise some people.
Many national polls suggest Obama has the trust of more voters on the economy, while McCain's advantage seems to be foreign policy.
But Craig Campbell, chairman of the Douglas County Republicans, said as the economy and energy policy together become a major issue, it could help McCain.
"Things that are really impacting people's pocketbook are huge," Campbell said.
During his speech Thursday in Kansas City, McCain mentioned a gasoline tax holiday before he spoke about the Iraq war. He also called on Congress to lift the ban on offshore oil drilling, a stance he recently changed.