Curriculum employs team-based active learning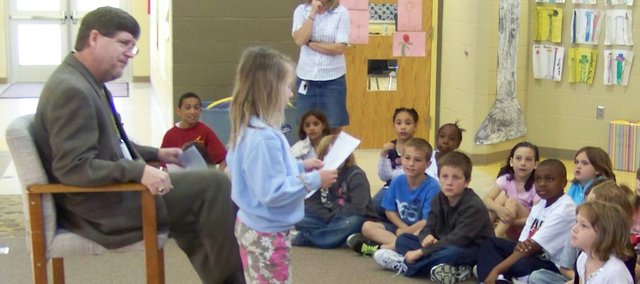 A model program that stresses active learning methods and the incorporation of character development in curriculum is poised to begin its second year in four Bonner Springs-Edwardsville Schools.
In spring 2007 the district's three elementary schools - Bonner Springs Elementary, Edwardsville Elementary and Delaware Ridge Elementary - plus Clark Middle School were each awarded a five-year, $125,000 grant by the Ewing Marion Kauffman Foundation to train teachers and begin in the schools the using the Expeditionary Learning curricular model, projects-based learning system developed by the nonprofit organization Outward Bound USA.
According to the Outward Bound Web site it takes two to three years for schools to fully implement to basic practices of Expeditionary Learning.
District teachers began training that first summer in the Expeditionary Learning model, with the same active, team-based methods they would bring to their own classes. They also worked with school designers from Outward Bound in incorporating the Expeditionary Learning model into their curricula.
In the fall semester for their first Expeditionary Learning excursions, district students tagged Monarch butterflies, visited old bridges in Jackson County to study their structures and studied the tracks of wild animals at Wyandotte County Lake Park.
In the spring semester, class projects included the creation of a Web page on the Bonner Springs city Web site for children to virtually explore the city, a garden, lobbying a state senator to designate an official state grass, and a produce a coffee-table book comparing farming methods of today and a century ago.
Cindy Lockyear, principal of the year-old Delaware Ridge Elementary School, said the Expeditionary Learning model brought changes that were visible on a daily basis in her school.
For example, each classroom's LCD projector shows throughout the day the learning target for students that day, expressed in "I can" terms from a student's perspective.
"I walk through the classrooms and it's amazing how something that small affects student engagement," Lockyear said. That's because, she said, "they live in world that is graphic, colorful and interactive. If something was handwritten on the board, they might not notice it, but this gets their attention and holds it."
Lockyear said a student in first-grade teacher Cinthia Fletcher's class, before going outside for a break asked her teacher, "What's our learning target for recess?"
Changes also can be seen in the daily morning meetings to start the day in each class, Lockyear said. The meetings can focus on team-building, she said, or they can be used to talk about issues in the classroom that a student wants to discuss.
Or, Lockyear said, they can be just sitting in a circle and "sharing something they experience since they left school the day before."
The Expeditionary Learning model emphasizes five character traits - collaboration, integrity, trust, quality and passion - and Lockyear said her teachers do "a good job weaving (them) into everything we do : So when you walk though our building, you hear teachers ask, 'Is this quality work?' And you hear students say that too: 'Ms. Durbin, I'm turning in quality work.'"
Or, just as important, when a student's work falls short, "they'll recognize that they're not," Lockyear said.
The new school's staff includes four first-year teachers, who, Lockyear said, "have really embraced the idea of EL."
Lockyear didn't know if the teachers being brand-new made their adopting Expeditionary Learning methods any easier, she said, but the fact "they hadn't developed their own personal teaching style" may have made a difference.
Lockyear said young people today, including teachers, are more likely to be risk-takers, but that her veteran teachers were also enthusiastic about Expeditionary Learning.
"Our veteran teachers have learned from our new teachers as much as the brand-new teachers have learned from them," Lockyear said.
Students have taken to the Expeditionary Learning model as well, she said.
"It hasn't taken long at all for them," Lockyear said, "especially students at the intermediate grade levels. They know that they're EL - they hear teachers using that title and term with them and they make connection with things in the classroom: 'Oh, this will be part of the investigation,' then go into why it's connected."
Investigations are the Expeditionary Learning term for a type of project. Several investigations go into an actual expedition, which typically is a semester- or yearlong project in which an entire class takes part, and which includes material from all the core subjects.
Last school year, second-graders at Delaware Ridge studied native plants at the Grant Bradbury Park in Topeka, kindergartners studied the life cycle of a butterfly and tagged Monarchs in Lawrence, and third-graders studied the tracks of wild animals at Wyandotte County Lake Park.
In one example of the different culture that is part of the Expeditionary Learning model, the trips are termed "fieldwork," and the use of the term "field trip" is discouraged.
"We call it field work because it's not just for fun," Lockyear said. "It's for the experience of learning."
Put another way, Superintendent Robert Van Maren said the new term was also meant to reflect that students are not going on class trips as passive observers, but as "little researchers."
The fifth-graders at Delaware Ridge are putting together a history of the young school, and in a related project, for their investigation the fourth-graders are researching the cultures of the American Indian tribes - the Delaware and Wyandot specifically - that had lived near the school's location.
Already, Lockyear said, teachers have begun integrating different subjects throughout the school day, with social studies and math the only two segregated subjects.
"We're becoming more effective at integrating the different core subject areas," Lockyear said. "I think one of our ideas as we became better at integrating, was that time is a big issue. With anyone in education it always seems there's never enough time to teach all the state standards so there's a constant pressure."
As teachers get better at integrating the core subjects, Lockyear said, it should become easier to teach what's required in the allotted time.
At the end of the fall semester, all the school met for a slide show to review the classes' accomplishments. It was an emotional meeting, Lockyear said, because "I think the first year you're working away, and you don't realize what you've accomplished."
The parents Lockyear has heard from have gotten behind the Expeditionary Learning program "100 percent," Lockyear said. That in turn has yielded tangible benefits for teachers.
"We've had more parents than any school I've been involved with volunteer to help in field experiences," Lockyear said, "and more dads than I've ever seen."
Principals at the other three schools also report good experiences.
"I think it's going very well," said Clark Middle School Principal Steve Cook. "I think the teachers are even more enthusiastic" about Expeditionary Learning than they were in the beginning.
"They want it to happen even faster," Cook said. "It's a challenge," and important to remember that it's a five-year process for putting into place the model.
Still, the results at Clark were already evident after the first semester, he said.
"I see a lot of good changes," Cook said. The way we approach kids, the way they do their work - we're changing attitudes."
One change is the creation of advisory groups, to get students' input on issues such as lunches and scheduling, Cook said.
"It's just a new way of doing things," Cook said. "It's demanding but very rewarding."
Because it was his first year at the school the school, having formerly served as an assistant principal at Bonner Springs High School, Cook said, "I don't have much context to compare it to last year. But it has been an absolute pleasure to work in that environment, because everyone is focused on the same goal: to improve student learning in a way that is new and refreshing. We've only done this a semester but it would seem difficult to go back to the traditional model."
Last year at Clark eighth-graders studied older bridges in Jackson County to see how they were built and maintained, and sixth-graders incorporated their studies of Greek and Roman history into a physical education unit.
Kim Mitchell, principal at Bonner Springs Elementary, said her school's experience with Expeditionary Learning had been "great."
Mitchell said the biggest difference visible at her school was the use of learning targets.
"It's just a nice, natural progression kids have picked up on," she said.
"The other thing is the way our professional development looks," Mitchell said of the school's teacher training. "Teachers when they come back (from Expeditionary Learning seminars) are so excited they make you learners."
At the seminars, which are conducted at Expeditionary Learning schools around the country, teachers learn by doing projects called slices, which are similar to the projects they'll be designing for their classes.
"They put you in a learner role," Mitchell said. "It's so valuable to see, so they see this is what we do."
Professional development isn't always seen as a positive experience for teachers, Mitchell said, but the Expeditionary Learning seminars have her teachers "bubbling with enthusiasm and bursting with ideas : Our goal is to have every staff member attend EL professional development."
Projects for Mitchell's students included a Web site linked to the city of Bonner Springs site, which will be created by third-graders and made especially for kids. Fourth-graders did an environmental expedition, which involved writing letters to politicians and conducting a recycled-paper drive.
The fifth grade will study global warming by looking at the plight of polar bears, kindergartners will plant gardens in front of and behind the school, and second-graders studied the changes in Kansas agriculture in the last 100 years to make a coffee-table book.
Overall, Mitchell said she thought the culture of Expeditionary Learning "adds to the life of the building, so I think it's just more cohesive - the curriculum and the staff, we're all on same page."
Amy Riebel is principal of Edwardsville Elementary, and said the school's adoption of the Expeditionary Learning model was part of the school's appeal for her in applying for the position she assumed last year.
That's because, she said, "the professional development opportunities that EL provides and the way that EL structures learning for kids, and takes what we know about best practices as educators into daily practice."
Riebel said she was far from disappointed with the new curricular model.
"At this point it's (EL) exceeded my expectation," Riebel said.
"I think EL provides some common language and design principal," Riebel said. "It gives something to focus on, and building culture and character. That's something we've really focused on, introducing those design principles."
Those principles are self discovery, having wonderful ideas, students' own responsibility for learning, empathy and caring, success and failure, collaboration and competition, diversity and inclusion, thee natural world, solitude and reflection, and service and compassion.
Count Superintendent Robert Van Maren as a fan of Expeditionary Learning.
"Honestly, there are lot of negative things I deal with," he said, but since teachers at the four schools have been attending EL training, "I enjoy getting these notes : They're all positive. I can even say beyond positive."