Not your mother's home-ec class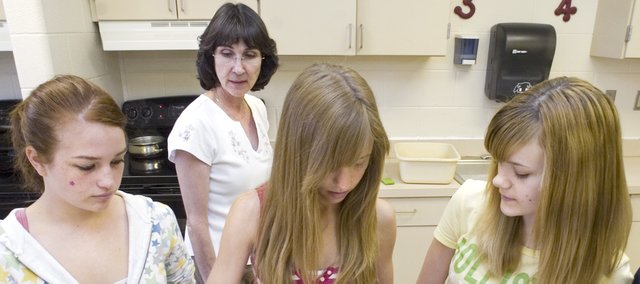 The name isn't all that has changed in classes formerly known as "home economics."
Family and consumer sciences, or FACS, as the course is now called, is a lot different from the courses taught 30 years ago, said Marie Nave, a newly retired FACS teacher from the De Soto USD 232.
"It's a de-emphasis on cooking and sewing," she said. "That's still in the class, but we have consumer, which deals with pricing and purchasing. Childcare is involved now. We still do the cooking and sewing, but it's with more of an emphasis on nutrition and family."
And when she first started teaching 32 years ago, boys and girls had different classes.
Boys enrolled in "Bachelor Basics" while girls took "Home Economics."
Last year, Nave's class was the second-most popular class at Monticello Trails Middle School, and her classes had about 50 percent each of boys and girls.
Concern about nutrition is added to the mix now as well, Nave said. But the challenge is getting students interested in eating healthy, she said.
"They still want the cookies and the pizza," she said. "But we use whole wheat flour and things to try to get as much nutrition in as we can."
Nave spends part of her free-time sewing, mending and altering clothes, and she said her love of sewing was part of why she became a FACS teacher.
"It's my favorite part of the class," she said. "Sewing is making a come back, too."
The need for FACS instruction in schools is higher than ever, said Nichole Burnett, family and consumer science agent with Johnson County K-State Research and Extension Office.
"Just cooking skills in general have decreased as there is more emphasis on their basic subjects, our core subjects like reading and math," she said.
Burnett said families are relying more on convenience foods, and because of that reliance, children may not be learning cooking skills at home like their grandparents did.
Valeria Edwards, another FACS agent with the Johnson County K-State Research and Extension Office, said she remembered reading something that talked about sitting children down at the kitchen table to work on different exercises.
"A learning that the professionals had is that these families didn't have kitchen tables," Edwards said.
Especially at lower-income level homes, many families eat their meals at the coffee table in front of the television, Burnett said. In middle-class families, the kitchen table has become a catch all for homework, mail and other paperwork, she said.
"Once we hit the TV dinner concept of being able to have an all-convenience food and do it in front of the TV, we have lost a lot since then," Burnett said.