Fire Department offers new
CPR

training class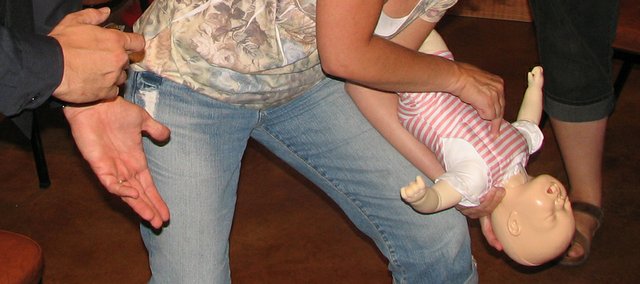 Knowledge of basic CPR could help save a life in an emergency situation.
And Fairmount Township firefighters are hoping a revamp of the CPR training program along with increased availability will encourage the general population to get certified.
Now an official CPR training site, the Fairmount Township Fire Department is able to offer classes to anybody that may need or want them from church groups to health care professionals, said training site coordinator Chris Angermuller, a CPR first aid instructor, firefighter and EMT.
"We'll do classes here and go to them," he said.
Angermuller, who began working at Fairmount Township in October, is also full-time at the Overland Park Fire Department, an official training center through the American Heart Association. Overland Park's status along with Angermuller's training as an instructor allowed Fairmount Township to become a training site.
"I recognized a need in the community," he said about starting the program in the area.
Not only is CPR training now offered through the local fire department for anybody in Basehor and surrounding cities, the training has also changed. What was once intimidating and difficult to remember has been simplified.
The American Heart Association, including a team of health care professionals, evaluate the training every five years to determine if changes need to be made.
"This last five-year cycle they decided to make some changes," Angermuller said. "They found that the old way of CPR was not as effective as the new way. They are trying to get as many people as possible to take this class. The more people that know how to do this, the better chance people in cardiac arrest have of surviving."
The simplification was demonstrated in a training class Friday evening. Students in the Heartsaver AED class taught by Angermuller, first learned the symptoms of cardiac arrest, stroke and choking, including unusual signs that most people would not know about in adults, children and infants. Participants also received manuals and a refresher CD to review from time to time to avoid forgetting the training.
Three different sized mannequins were available for students to practice the steps of CPR from scene safety and checking for breath to compressions and a practice run with a training AED defibrillator. Small modifications in technique were made for each mannequin. Angermuller also went through some of the concerns those performing CPR may run into during an emergency situation such as breaking ribs, spinal injuries and performing mouth to mouth on a stranger. He explained the dos and don'ts and constantly reiterated the importance of the act of CPR above all other concerns.
"Life over limb," he said to the class. "This person, at this point, is dead and you're trying to bring them back. Don't stop compressions unless a family member or doctor tells you. The chest compressions are the most important thing you're going to do here."
Most of the students taking Friday's class had taken a CPR training course before and commented on how much easier the class was this time around.
Student Sheryl Turner said the class offered through the fire department was more hands on than classes she had taken in the past. The fact that there were mannequins of different sizes to practice on made students feel more at ease and knowledgeable of the procedure in case they ever had to use it.
"They just said, 'If this was a child,'" Turner said about a previous class. "We didn't have anything to practice on."
Angermuller said the new, more user-friendly classes can be administered to anyone who is interested in becoming CPR certified, even children as young as 8- or 9-years-old. Right now, there are two instructors at Fairmount Township Fire Department, Angermuller said, but they hope to have three more by next summer to serve the needs of the community. Anybody interested in learning more about the program or taking a class can call the fire station at (913) 724-4911 or by e-mailing Angermuller at cangermuller@fairmountfd.com.
"It's more of a community thing," he said. "We want people to be trained. This is the biggest thing for helping to save lives especially when you have a volunteer department and it may take a while for people to get there (to an emergency). We want as many people as possible to be CPR certified."
Fee schedule
¢ Three hour Heartsaver AED, $35 per student
¢ Three hour health care provider class, $45 per student
¢ Eight hour first aid class, $65 per student