Lansing's 1945 grade-school basketball team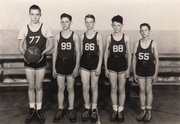 Sixty-three years ago I coached a grade school basketball team consisting of Bill Krause, 77, Wayne Seymour, 99, Bill Young, 66, Don McQuillan, 88, Charlie Seymour, 55.
The year was 1945, and Bill Krause had moved in 1944 to Lansing from Papillion, Neb. His father worked at Missouri Valley Steel in Leavenworth, and he was a welding inspector on the landing barges for World War II. They lived on what is now East Lois, right next door from the McQuillans.
Don brought Bill to basketball practice. I already had picked my first team, so I naturally put Bill Krause on the second team. We had a scrimmage and the second team beat the first team, which was embarrassing for the first team. I then put Bill on the first team. We did not lose a game that year. We played against the Catholic schools in Leavenworth. Bill was tall for his age, and his mom carried his birth certificate with her to prove his age. At a game with Sacred Heart, they did not let him play until that proof was shown. Bill moved with his family back to Nebraska right out of the eighth grade.
Just recently, through e-mail and being in contact with Wayne Seymour, I was able to get in touch with Bill. We had a long conversation on the phone. He was asking about all the people he remembered here in Lansing. He has had a wonderful teaching career. After the Army, he went into engineering and got a BSEE, BSME, and MSEE from Nebraska and a PhDEE from KU in 1961. He taught at KU and Madison, Wis., and since 1970 has been a professor in electrical and computer engineering at Purdue in West Lafayette, Ind.
I am so proud of all the players that I coached back then. Bill Young and Wayne Seymour became teachers and coaches. Don McQuillan played basketball in the service and collected many MVP trophies. He retired from the Federal Prison System. Charlie Seymour was a great baseball pitcher, and signed by the New York Yankees farm team. And all the other players, too numerous to mention, all turned out to be really special and productive adults. Lansing has produced great talents, and these boys were a part of my life.