Small city offers intern big lessons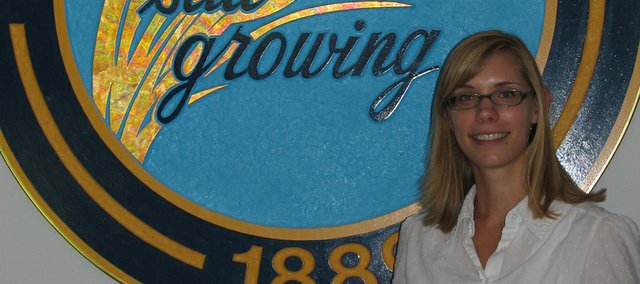 The continued assistance of student interns allows the city of Basehor to foster a perfect partnership.
While the interns learn some real world skills, the city receives a helping hand at little cost.
Basehor's small size is one of the reasons the city's newest intern Nickie Lee, a Kansas University graduate student in the master's of public administration program, picked Basehor for her nearly year-long internship.
"I wanted to work somewhere small because I really wanted to do a little bit of everything," Lee said. "With a larger city, they put you into such a specialized area and because it's such a big place, you can't get all the experience."
The opportunity to gain experience in all areas of city hall has proven true for the student so far, she said. Working under the supervision of City Administrator Carl Slaugh, Lee's 20 hours a week in Basehor have been filled with preparing graphs and charts for upcoming budget procedures as well as the city's portion of the Kansas Sampler Festival application.
Slaugh said she would also be working in the planning department updating subdivision improvement guidelines and operating procedures in the administrative area to help out the city clerk.
"We are ready to put in writing some of our standard things we do in our office," Slaugh said. "Building permits, how we process utility billing - just some routine things that we don't have in writing or that we do have in writing and we just need to update."
An Omaha, Neb., native, Lee received her undergraduate degree in English and non-profit leadership studies from Rockhurst University in Kansas City. She will be taking classes in Lawrence through the MPA program while attending to her part-time internship duties in Basehor. Next school year, she will also have a full-time internship through the program.
While the 24-year-old isn't exactly sure where her career path will lead her, she is hoping her experience in Basehor will be a guide. She said she was unfamiliar with the area before she started working here, but has found it to be a friendly place and complimented the city on it's commitment to providing opportunities for students. While some other cities are doing away with part-time internship programs because of budget cuts, she said, Basehor has kept it a priority.
"I would like to keep working in local government and I'm still kind of deciding what role that would be," she said. "I'm working with Carl to see if I'd want to work as the administrator or a manager. Basehor is growing a lot, which appealed to me. There are a lot of positive things happening here."
Slaugh said Lee was chosen out of the field of candidates for several reasons including her interest in the city as well as her prior job experience.
"She's doing very well," Slaugh said. "It doesn't take her long to figure things out. She has good prior job experience that has given her good exposure to real world life rather than just academics, so that's a big advantage to us."
As for the internship program in general, Slaugh said the city hopes to keep it afloat as long as possible because it is beneficial in a big way to both parties.
"It does work out for us well," he said. "It saves the city a little bit of money and we're not in the position right now to hire somebody full time. It gives them some good experience. We're quite willing to give them some training during the time they spend here and they've got some excellent capabilities."