Leavenworth County judge has a few weeks to respond to allegations
Stewart gets 30-day extension to file written response regarding allegations of sexual misconduct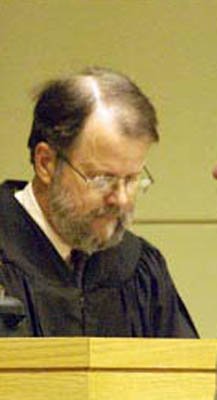 Leavenworth County District Court Judge Frederick N. Stewart now has until Aug. 22 to file a written response regarding allegations of sexual misconduct against a former administrative assistant.
On June 30, the Kansas Commission on Judicial Qualifications issued a notice of formal proceedings against Stewart. The notice outlined the allegations and gave Stewart 20 days to respond.
Stewart's attorney, Michael Gibbens, whose law office is in Basehor, requested a 30-day extension. Earlier this month, the extension was granted. According to documents filed with the commission on judicial qualifications, no further time extensions will be permitted, unless they would involve "exceptional circumstances."
"I can tell you that he denies the charges," Gibbens said in an earlier interview. "We intend to have a full hearing on the issues and for him to be vindicated."
The complaint alleges that, beginning in approximately 1999, Stewart "engaged in inappropriate conduct" toward the aide, "consisting primarily of harassing conduct, which included inappropriate touching, sexual advances, requests for sexual favors and other verbal and physical conduct of a sexual nature."
From 1999 through 2007, the complaint alleges, "the inappropriate conduct proceeded from the stage of being principally verbal or non-physical to being physical, including in the later years physical touching of a sexual nature or sexual physical acts such as attempted kissing and gradually increasing to more serious sexual contact in later years, particularly in 2007."
Stewart also is accused of shirking his oversight duties related to administrative treatment of the aide.
The administrative assistant was fired in December after being employed for more than 12 years with the court.
Stewart has been on the bench in Leavenworth since 1977. He continues to preside over his district courtroom during the response period.
After the response period ends, the commission will conduct a public hearing on the issue.