Residents reflect on Starcher's life through vehicles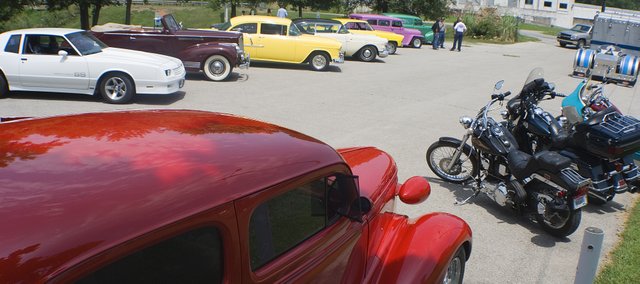 If you drove past VFW Park Thursday afternoon, you may have thought Tonganoxie was host to a classic and custom car convention.
But the car enthusiasts weren't there to talk shop and show off their wheels, they were at the park to pay their last respects to their good friend Ron Starcher, who shared their interest, excitement and love for all things with horsepower.
"We were very overwhelmed," Vicki Starcher said about the large number of people that came for her late husband's funeral reception. "Ron would have liked it, but he wouldn't have wanted all of the attention. We didn't realize how respected he was. "
On July 19, Ron Starcher died in a motorcycle accident on Kansas Highway 16 west of Tonganoxie. When people heard the news, friends and family began giving support to his wife, Vicki, and their two daughters Lindsey Starcher and Leslie Dohrin.
And when the family planned for a Wednesday night visitation, the family saw just how much Ron meant to people. The family originally printed 400 programs for the visitation, but as more and more people kept coming, the family had to print more just to keep up. Lindsey estimated that 700 people attended the visitation.
"That was so amazing and unexpected," Lindsey said. "It was really nice for all of those guys to show support for my dad. He would have really appreciated all of them being there."
The support didn't stop that night. The VFW was nearly full with more of Ron's friends and family during the reception that followed the funeral service at Hubbel Hill Cemetery.
Ron's friends were either outside next to some of the cars, which Ron helped customize or were inside getting some food and talking about the man they traveled with to car shows or race events.
"He touched so many lives; it's just overwhelming how many lives he has touched," said Ron's sister Dixie Jones.
She said he would have loved the reception with only one exception: "He would have wanted people dressed in blue jeans and Harley shirts."