Sand vaulters Light It Up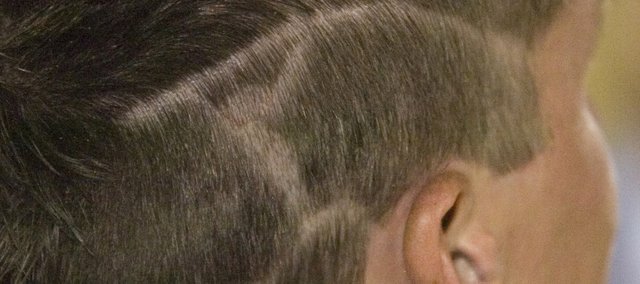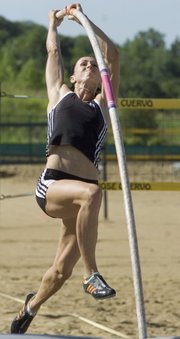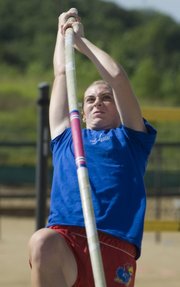 They survived Mother Nature, a fuel crisis, and the Olympics, so it's safe to say that the Light It Up sand pole-vaulting competition is here to stay.
For the second straight year, a group of local pole vault coaches and experts, led by Mill Valley High School coach J.J. Lawler, put together a loaded field of local and national talent Saturday and Sunday at the Shawnee Mission Beach Volleyball complex. Despite numerous obstacles, the organizers - who also included Shawnee Mission Northwest vault coach Eric Peters and Kansas Class 1A state record holder Darren Bryant - pulled off a successful event that featured many of the area's best high school and college vaulters.
The number of vaulters attending the meet this year was down from the 2007 field with two major factors to blame: gasoline prices and the Olympic trials. Organizers heard early in the summer from many prospective vaulters who said fuel prices were going to be too steep for them to make it to the event from their various corners of the country. Organizers also had the misfortune of having their event scheduled just at the end of the Olympic Trials - when qualified and alternate vaulters are not likely to risk injury in another event six weeks away from Beijing.
So Lawler, Peters and Bryant decided to place the emphasis on local high school and college talent for the 2008 competition, attracting vaulters such as BYU-bound Christen Botteron, KU's Jordan Scott, Linda Kuenzi of Shawnee Mission Northwest (third place at the 6A state meet) and 2A state champion Keegan Williams of Maranatha Academy, as well as Mill Valley's Ashley Bowman and Alaina Fairbanks.
The organizers also received the welcome 11th-hour news of April Steiner-Bennett's arrival. Steiner-Bennett had already qualified for the Beijing Olympics and was looking for one more event before traveling overseas for the games.
With a competitive field set and the inclusion of well-known national talent, the event kicked off at 6 p.m. Saturday. After about 45 minutes of competition, thunderstorms forced a two-hour delay. Competition eventually resumed, but storms returned again. Organizers and athletes agreed to finish the event Sunday.
Sunday's weather cooperated, and the competition finished without a hitch.
Scott won the men's vault at a mark of 17 feet. He narrowly missed a meet record of 17-10 in three attempts on a shortened runway.
Kuenzi earned the high school girls' gold medal at 10-6 with Maranatha's Williams taking second at 10-0.
Unfortunately, Steiner-Bennett suffered an injury Sunday morning and was unable to meet height for the event. The injury should not affect her performance in Beijing.
Despite the hurdles leapt to pull off the event in 2008, Peters said he, Lawler and Bryant are encouraged by the meet's success and are ready to see it reach new heights now that it's become firmly entrenched in the KC metro area sports calendar.
"100 percent yes," Peters responded when asked whether the event would continue in its current format. "We already sat down yesterday and we're already making plans. We had lots of scheduling conflicts this year, but April said that she 100 percent wants to come back next year. Jordan Scott has committed for next year. Once we get some more people on board, you are going to see this event just take off."
For more information on the Light It Up event or pole vaulting instruction, go online to brokenpole.com or vaultmidwest.com.