Ogilvie set standard of excellence at
BLHS
Multi-talented senior 'willing to do the dirty work' to help team win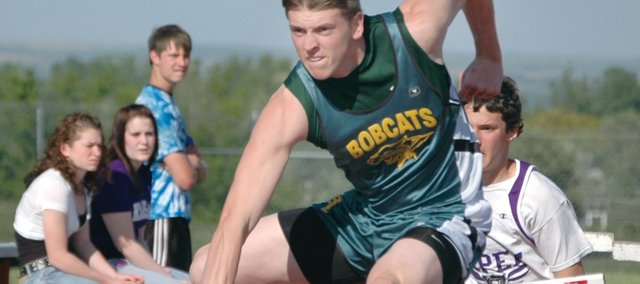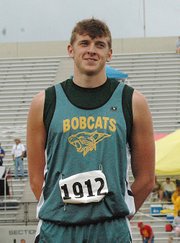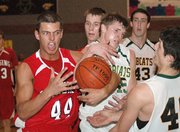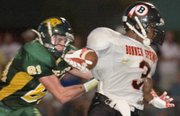 Team player. Solo superstar. Classroom champion.
All are accurate descriptions of Scott Ogilvie throughout his four years at Basehor-Linwood High School.
Ogilvie did it all during his time as a Bobcat. He was the do-everything guy on the football team, the beat-the-odds guy on the basketball court and a speedy standout on the track as one of the state's premier hurdlers. He also was a diligent student who took his grades seriously.
In a class loaded with talented athletes, Ogilvie's ability to thrive in so many areas made him stand apart and earned him the recognition as the Basehor-Linwood Male Athlete of the Year, an honor awarded annually by the Sentinel to a graduating senior.
Few people had a closer look at the multiple sides of Ogilvie than Steve Hopkins. He coached Ogilvie in both football and track, and he saw Ogilvie thrive in both environments.
"Scott never got the accolades with football because he was willing to do the dirty work," Hopkins said. "He was a lead blocker, and outside defensive end that took on blockers so others would get the tackle. So to watch him be the guy to cross the finish line in first place at regionals : you like to see a kid like that be rewarded."
Ogilvie wasn't the most athletic guy in his freshman class at BLHS. That didn't stop him from working hard to prove he belonged. His coaches said he soaked up everything he was taught, whether on the football field, basketball court or in the weight room.
BLHS strength and conditioning coach Ross Schwisow noticed that firsthand, and he watched Ogilvie transform him from an out-of-shape freshman to one of the most chiseled students in the school.
"Scott was a kid who from the very beginning really absorbed (what we taught him), and he saw a lot of strength gains," Schwisow said. "He had a great work ethic."
Mike McBride witnessed Ogilvie's work ethic on an almost daily basis for four years. That's the only way he ever stepped foot on the hardwood, said McBride, the BLHS boys basketball coach.
McBride didn't give Ogilvie much chance of playing basketball based on his skill level when he entered the program as a freshman. Those who've ever watched McBride's teams play understand that effort counts for a lot more than natural ability, however, and in that regard Ogilvie won over his coach.
"He was one of those kids I looked at (as a freshman) and said, 'if this kid ever makes it, it will be a miracle,'" McBride recalled. "He was uncoordinated, didn't have very good lungs to run and didn't have a real understanding of the game, but for him to make it was just remarkable. He is one of my favorite players of all time that I've coached because he had to fight so much just to be a part of the team. He wanted it that bad."
Ogilvie worked his way up through the basketball ranks and earned occasional varsity minutes as a junior.
By his senior season, the guy who McBride didn't think would make the team a few years earlier was a member of the starting five. He wasn't a major scoring threat, but when it came to playing aggressive defense, scrapping for rebounds or blocking a shot, few were better. Thanks in part to his contributions, the Bobcats won their second straight Kaw Valley League championship.
"He led by example and everybody knew what they'd get out of him," McBride said.
Although it took Ogilvie a few years to crack the varsity rotation in basketball, he became a starter on the football team as a sophomore, and as a junior and senior he was a two-way starter who rarely came off the field.
Regarding Ogilvie, Hopkins asks if he can take a redshirt year like college players are allowed. His voice is sarcastic, but there's a part of Hopkins that clearly wishes Ogilvie had one more year of high school eligibility.
Here's why.
"It takes four kids to replace him," Hopkins said. "It takes an offensive kid, a defensive kid and two special-teams kids to replace him because Scott never came off the field. He was on every special team and every offensive and defensive snap that mattered. I'm not lying. We have to look at four different players who are younger to fill his shoes."
Ogilvie served primarily as a blocking tight end for the BLHS offense. In addition, he was a defensive end, and he served as the primary gunner (fastest player and first man down the field) for the kickoff and punt teams. He also was the edge blocker on field goals and extra points, and he was the first blocker in the wall on kickoff returns.
In football and basketball Ogilvie was a behind-the-scenes guy who did the little things that made his team better. In track, however, he was a one-man show. In 2007 and 2008 he was the only Bobcat athlete to qualify for the Class 4A state track meet.
As a junior he finished third at regionals in the 110-meter hurdles and then missed advancing to the state finals by .02. As a senior he scorched his way to a regional title in the 110 hurdles and a third-place finish in the 300 hurdles. Then at state he squeaked into the 110 hurdle finals and brought home a medal with a fifth-place finish in 15.61 seconds.
Ogilvie's commitment to excellence extended beyond the sports arena. He was an honor roll student and a member of the National Honor Society while taking a difficult curriculum that included a college government class.
"We had a mock congress (in the government class), and the kids chose him to run the congress because they knew he was the most honest and he had the most understanding of how it works," Hopkins said.
"He wants to be the best one in the classroom," McBride added, "so you know he's going to make it through college just fine."
As for college, Ogilvie is headed to Kansas State University in the fall on an academic scholarship. Hopkins said Ogilvie had walk-on offers for both track and football but has chosen to focus on academics for the time being. As much as other BLHS athletes admired Ogilvie for his on-the-field performance, Hopkins said he hopes they will follow his example in the classroom as well.
"Kids are going to lead in practice, kids are going to lead athletically and in the weight room because that's what a jock does," Hopkins said. "But what he did was he led in the classroom, and he's going to get a lot of his education paid for because he led in the classroom. That's what a student does, and that's really what it's all about."