Voters prepare primary election decisions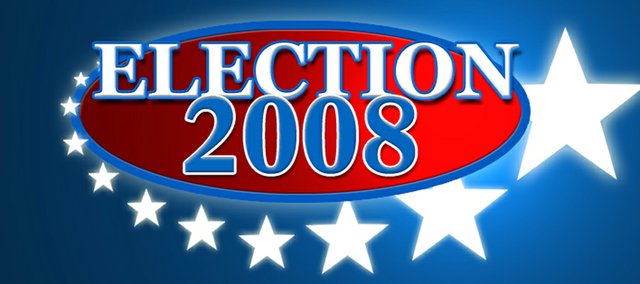 Leavenworth County residents don't have to wait until Aug. 5 to cast their vote in upcoming primary elections, but undoubtedly many will.
According to Penny Reindl in the county election office, more than 150 voters have already marked their ballots in advance at the County Courthouse, and this year two satellite sites will also welcome advance voters.
Advance voting will be available to all registered Leavenworth County voters from 3 p.m. to 7 p.m. today, July 31, at the Basehor Community Library, 1400 N. 158th St.
Several races are being contested in Republican primaries.
¢ Former Congressman Jim Ryun and current State Treasurer Lynn Jenkins are vying for the 2nd District U.S. House of Representatives nomination.
¢ In the Kansas House of Representatives' 42nd District (represented currently by state Rep. Kenny Wilk, R-Lansing), Connie O'Brien and Ted Ingerson, both Republicans, will square off.
¢ The race for the Leavenworth County Commission's 3rd District nomination pits seven Republicans (Beverly "Bev" Oroke, John Flower, Francis Hurla, Dave Taylor, William "Bill" Merkel, Marvin Torneden and Tony Klamm) against one another.
¢ In the race for Leavenworth County attorney, Debra "Deb" Snider, Lansing, and Todd Thompson, Leavenworth, are battling for the nomination .
Democratic voters, too, can participate in the primary election. In the 5th State Senate District, Democratic voters can pick between incumbent Mark Gilstrap or newcomer Kelly Kultala.
If waiting until the official Election Day to vote, Leavenworth County residents can cast their ballots from 7 a.m. to 7 p.m. Tuesday, Aug. 5, at the following sites:
¢ Alexandria Township Fire Station, 23449 Bauserman Rd., for voters in the Springdale/Alexandria voting district;
¢ Wallula Christian Church, 23785 139th St., for southern Delaware Township voters;
¢ Holy Angels Catholic Church, Fr. Quinlan Hall, 15438 Leavenworth Rd., for the City of Basehor and Fairmount Township voting district;
¢ Fairmount Township Fire Station, 2620 N. 155th St., for Fairmount and Basehor Township;
¢ Glenwood Ridge Elementary School, 17550 158th St., for Glenwood and Fairmount Township;
¢ High Prairie Church, 26480 187th St., for Boling/High Prairie Township;
¢ Reno Township Fire Station, 12755 238th St., for Reno Township;
¢ Linwood Community Building, Third and Main streets, Linwood/Sherman Township;
¢ West Haven Baptist Church, 1000 West St., for Stranger Township;
¢ Stranger Township Fire Station, 19501 State Ave., for Walnut/Stranger Township;
¢ Tonganoxie VFW Building, 901 E. 1st St., for northern Tonganoxie;
¢ Sacred Heart Parish Center, 1100 West St., for southern Tonganoxie; and
¢ Administrative building at the Leavenworth County Fairgrounds for rural Tonganoxie.
All first-time voters in the county are required to show ID at their respective polling site.
Also, for voters still undecided in the primary or for those wanting to pose a question to candidates, the Sentinel and Chieftain staffs will conduct their final three Web chats for candidates involved in contested races in Leavenworth County.
3rd District County Commission candidate John Flower will answer questions from voters at 1 p.m. Thursday; and Connie O'Brien, who is vying for the Kansas House of Representatives' 42nd District, has scheduled a chat at 5 p.m. Thursday.
To submit a question for Flower or O'Brien, log on to basehorinfo.com/chats or bonnersprings.com/chats any time during or leading up to the respective chat.
Past chats with candidates in the primary races also are available for viewing online.
For more information on voting in Leavenworth County, contact the Leavenworth County Clerk's office at (913) 684-0421.